Belgravia and Dinner at the Regency Cafe
Posted on 2010/04/16 20:28:39 (April 2010).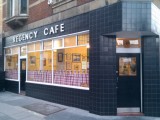 [Friday 16th April 2010]
The office seemed to be more or less deserted today, and by the time it came to the usual end-of-the-week beer and pizza thing, rather disappointingly there was no-one to go with. So instead I just slinked off and went for a wander round Belgravia.

Belgravia was looking particularly magnificent this evening. Whilst walking through Belgrave Square I noticed for the first time an inscription bearing the name George Basevi. I had previously quite wrongly referred to Belgravia as "Thomas Cubitt architecture" whereas in fact Thomas Cubitt was a master builder, not an architect - although his younger brother Lewis Cubitt was an architect, and designed parts of Belgrave Square along with Basevi.

The name "Basevi" really caught my imagination, and prompted me to read a little further into his history. Whilst born and raised in England he was of Italian ancestry as his name suggests. He studied under Sir John Soane - and was apparently his favourite pupil. Basevi went on a grand tour of Italy and Greece starting in 1816, and this influence can clearly be seen is Belgrave Square, built in the 1820s, which has been described as partly Greek revival in style. Perhaps rather fittingly Basevi is buried in another architectural wonder which I'm very fond of - Ely Cathedral.

Anyway, after a while of indulging my new found fascination with architecture, more mundane matters came to the fore, and it was time to think about dinner. I'd suggest to Chie we meet up somewhere on her way back from work, as I rather fancied chips. Rather superbly, Chie noticed that the Regency Cafe was still open. It apparently opens until 7:30 on weekdays, although last orders are more like 7:15 so we only just made it in time. I had a superb mushroom omelette and chips, and a mug of their wonderfully strong tea. It was a real treat to be able to savour the interior of the Regency while it was quiet for once - by the end we had the place entirely to ourselves. Bliss.



Comment 1
Ah, looks like a splendid place - very traditional, in a good way!

Also love the way the GPS seems to have successfully distinguished between inside and outside the cafe! Quite a result if my own experience is anything to go by!

Posted by Nigel at 2010/04/17 06:20:49.
Post a comment