Petersfield, Buriton and South Harting
Posted on 2010/04/05 13:07:04 (April 2010).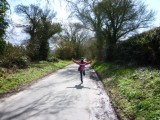 [Sunday 4th April 2010]
On a recent trip to see Dad I'd asked him for recommendations for pubs in the South East that he'd visited back in his CAMRA days. I'd created a map of some of these in Hampshire and had been keen to try and visit some of these since.

Given that we hadn't really planned anything for the long Easter weekend, today seemed like a good day to get out of London, get some fresh country air, and hopefully visit one of these pubs.

Unfortunately the logistics of relying on train travel plus walking meant we could probably only practically visit one on the list, so after poring over the map for a bit I decided we should aim for the Five Bells at Buriton.

We made a special effort to get up "early" - were out the flat by 10AM (very good for us on a Sunday) and were on a train headed for Hampshire by 10:30.

We arrived in Petersfield a little before 12, in good time to visit the Farmers Market there, where I bought what may well be one of the last wedges of Twineham Grange cheese (my favourite vegetarian Parmesan alternative) - which apparently faces an uncertain future.

From there we headed out to Buriton. Unfortunately I hadn't been able to get hold of the local Ordnance Survey map, so we didn't have much choice but to mainly stick to the roads today. Fortunately after a short walk along a larger road, it's then quite a pleasant little country lane that leads to Buriton. The sun came out at this point too, and it was really rather lovely - a Devony sort of feel to it - which was especially nice to think we'd been in central London only a couple of hours earlier.

We arrived at the Five Bells at 12:45, timing it rather well it seems, ahead of the main Sunday lunch rush. It's a simple but rather lovely two-tone brick building on the outside, with some parts apparently dating back to the fifteenth century, but most of the visible bits now are more likely eighteenth century. There was a very welcoming smell of wood smoke as we entered, and on the inside all the usual hallmarks of a great country pub - the open fire and the low hanging beams.

It seemed to be a family run pub - I got the impression the two barmaids were the landlord's daughters - and it seemed to attract a very family oriented clientèle too - there were lots of young children and dogs, but all very well behaved. It's a Hall and Woodhouse pub now, so the beer was all Badger. I had the Hopping Hare which was very pleasant indeed - perfect for a day like today.

The food was very good too - I ordered the vegetable lasagne, which, although it doesn't sound like a very original choice for pub food, was extremely tasty, and also was served with roast potatoes (which were quite excellent).

Overall a delightful little country pub, very well run, which made for a very nice visit, and all the nicer for knowing Dad had been here 30 or so years before.

When making my makeshift plan for the day this morning it had seemed a bit of a waste to come all this way, go to one pub, and then just go back home again. However, as noted, the other pubs Dad had recommended looked a bit to far to walk in one day. So I had pretty much just picked the next village to Buriton on the map that had a pub - and so determined we should next head for South Harting.

It took about an hour-and-a-half to walk from Buriton to South Harting, again we suffered as a result of not having an OS map - we started down a couple of footpaths that then appeared to turn the wrong way, so we turned back again.

Anyway, eventually we made it to South Harting, where after a quick appraisal of the two pubs on offer, we decided to plump for The White Hart Inn. Whilst it didn't have quite the rustic charm of the Five Bells, this was still a perfectly pleasant little country inn with the obligatory low hanging beams et al, wherein we enjoyed a game of pool in the little room at the back.

After this we headed back to Petersfield, which turned into a bit of a trek, again as we didn't have an OS map, and had do a bit of guesswork whenever we weren't walking on roads. Definitely towards the end the sense of fun of this had worn somewhat thin, especially after a boggy field caused Chie to get decidedly wet feet.

Still, I suppose it was all good exercise!

We got back to Petersfield at 6 - we briefly though about popping into one more pub here - the Good Intent seemed like a promising candidate, but alas it was closed until 7. So instead we just went and jumped on the next train back to London.



Post a comment