Bar Italia and St. James's Park
Posted on 2010/04/05 13:07:04 (April 2010).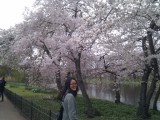 [Saturday 3rd April 2010]
Spent most of the morning indoors, and just ventured out towards the end of the afternoon for a pretty non-specific meander through London, including a very good espresso at Bar Italia, and a bit of cherry blossom viewing in St. James's Park.


Comment 1
I say, is the exercice bike inside your flat just part of the decor? ...or do you actually use it?

Posted by Sheri at 2010/04/06 10:00:31.
Comment 2
sakura mo suisen mo sugoku kireine!
konoyouna tokoro ga
arunodesune!


Posted by yoko at 2010/04/06 11:36:16.
Comment 3
Sheri: haven'u used it much recently to be honest!

Posted by John at 2010/04/08 20:44:43.