Stuffed Courgettes
Posted on 2009/11/26 19:07:39 (November 2009).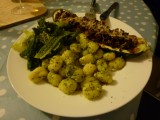 [Monday 16th November]
Made stuffed courgettes for dinner.



Comment 1
What did you stuff them with, they look tasty....

Posted by Squirly at 2009/11/27 08:43:47.
Comment 2
Totally agree .... looks great ..served with gnocchi and savoy cabbage ? What a great advert for non meat dishes .....It almost makes we want to become a vegetarian.

Posted by Revnick at 2009/11/27 08:59:17.
Comment 3
Thanks! The stuffing was shallots, olives, capers and vegetarian mince in a cider reduction. I cooked that all in a pan first then transferred to the oven, topped with some cheese (possibly vegetarian Parmesan?). The flavour of the cider went surprisingly well with the other ingredients, and I think it was probably quite critical to have a fairly moist stuffing to stop the courgettes drying out too much in the oven. They were very large courgettes too - almost marrows.

I was feeling quite cheffy that night!

Posted by John at 2009/11/27 09:18:26.