Japan to Pakistan, via Aldgate
Posted on 2009/09/20 13:18:24 (September 2009).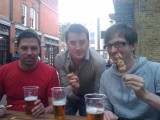 [Saturday 19th September]
Today we went to the London Japan Festival in Spitalfields market, where we were also joined by Andrew and Gav.

It was very crowded there and I have to admit to being a bit put off to start with, but, not unlike visiting Japan itself, a little perseverance paid off, and once we'd accepted the fact we'd need to queue for ages for most things I started to actually enjoy it. There was a good selection of Japanese food and drink on offer and the sights, sounds and smells were pleasingly reminiscent of a matsuri in Japan.

I have a feeling it'll be much better if they do this again next year - I think this was the first year it had been held, and I got the impression the organisers didn't really know how many people to expect. They didn't actually use the whole of Spitalfields - if they spread out the stalls a bit more it could have worked really well.

Anyway, after sampling a few things to eat and drink at the matsuri we decided to head off. The initial plan was to try and find a pub, but this quickly fell into the usual difficulties of finding anywhere open at the weekend in this part of London. After a few disappointing failures (two on my todo list: The Hoop and Grapes and The Still and Star: both closed) we did eventually find one place open - The Chamberlain - which wasn't actually that bad.

We didn't quite feel like calling it a day yet at this point, so went for a stroll - down to Tower Bridge, which is always nice - and whilst we were in that neck of the woods poked our noses in at The Anchor Tap, which is always nice too.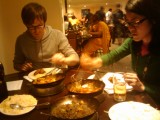 Our thoughts then turned to dinner, and I suggested we try the Lahore Kebab House - which, according to their website, has been serving authentic Pakistani cuisine for over 40 years. Our bill was embarrassingly small - a little over £30 for three of us - partly because for some reason they still don't have a drinks license. It's pretty basic and down to earth, but I think that's part of the appeal of the place.

Gav took some rather better pictures of the day out - I hope he won't me sharing them here.



Comment 1
Wow the Pakistani restaurant looks intriguing! Next time I am in London you must take me there!

Posted by Lox at 2009/09/20 21:36:45.
Post a comment