Tom Tom
Posted on 2009/09/19 10:06:21 (September 2009).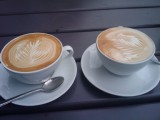 [Thursday 17th September]
Whilst I occasionally go out for lunch for a bit of a break from the office, going out for coffee is a new experience, which I tried for the first time today (we have fairly good coffee machines at the office, so I'd never really seen the need before).

Not too far from my office, in Belgravia there is a very nice looking coffee shop called Tom Tom - I'd often noticed it but had never tried the coffee before. Having mentioned this to my friend Mick he insisted on introducing me to it, and I was very impressed. I don't normally go for lattes (I'm more of an espresso person really) but this one was superb - rich and silky, a lot of depth, not too bitter - very satisfying indeed. I also tried one of their toasted sandwiches which was very good too.

Not much else to report today really!



Comment 1
Highly sophisticated coffee, by the look of it!

Posted by Sheri at 2009/09/22 05:54:17.