Sunday lunch with Andy
Posted on 2009/08/24 21:43:50 (August 2009).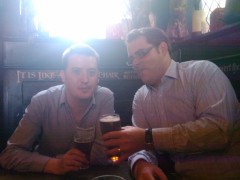 [Sunday 16th August]
Sunday lunch at the Mayflower in East London with our friend Andy and his wife, as a sort of early celebration for their wedding anniversary. Didn't have my proper camera with me today so you'll have to settle for some rather naff mobile pictures!

...although on the plus side that does mean some of the photos were geotagged, and thanks to a new feature in Cheese I can use that to generate this neat little map:


Comment 1
Good stuff, I am glad that you are back on blogging. Any chance to share your ideas regarding MDS, how it's going to be developed and so on? Some of my friends were a bit shocked to see it changed so much... I told them that we (well, you) are refurbishing the site... :P

Posted by Lox at 2009/08/24 22:20:04.