Cannes and Ventimiglia
Posted on 2009/07/05 16:55:40 (July 2009).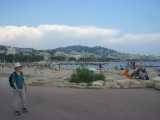 [Wednesday 1st July]
In a similar vein to yesterday's one-day-bus-pass themed outings, today we got a "Carte Isabella" giving us unlimited rail travel on the line that follows the Cote d'Azur from the Italian border up to just past Cannes.

So we spent the afternoon in Cannes, had lunch at a cafe there, and then went for a swim in the sea - the beaches in Cannes are sandy as opposed to the pebbled beaches in Nice, and generally seem much nicer. We didn't stay all that long, but it was still very nice - I think this was the first time Chie had swam in the Mediterranean - and only the second time for me.

After our swim we continued our wander around Cannes, wandering around the outside of the big exhibition centre where the film festival is held, and looking at all the hand prints of the stars in the pavement.

Keen to make the best use of our Cartes Isabella, after leaving Cannes we decided to stay on the train all the way to the other end of the line - over the Italian border to a town called Ventimiglia. A lot of the food in Nice is Italian influenced - there seem to be pizzerias everywhere - but so far it had, in honesty, all been a bit of a disappointment. So I was keen to have some "real" Italian food, and this seemed like a good opportunity to do just that. Particularly as, post Schengen treaty, you no longer need to show your passport to cross most land borders in Europe.

We arrived in Ventimiglia just after 6, and as it was still a little too early for dinner we decided to take a bit of a wander around the town. It's a bit of a weird place - perhaps it's just the parts we saw, but it seemed really run down and depressed - a stark contrast to the bustling tourist filled streets of Nice, Cannes and so on. It really had something of a ghost town feel to it, and we did not feel encouraged to dwell anywhere for any length of time. I wouldn't exactly call it ugly though - one half of the town was perched on the side of a hill, full of windy little cobbled passageways, and from the right angle it was in a sense quite picturesque... but it had definitely seen better days, and there was a discernably weird atmosphere to the place.

So at around 7, which seemed like a reasonable time to eat, we found a pizzeria, and proceeded to try and use all of the four sentences of Italian I know. Somehow we managed to make ourselves understood. We started off with pasta - Chie had a spaghetti vongole (the one with clams) and I had a penne a l'arrabiatta. Not very adventurous choices I know, but both of these dishes were really perfectly cooked, very fresh and flavoursome. We then followed with a pizza ai funghi which we shared. It was, as expected, a world apart from the rather amateurish pizza offerings to be found in Nice. Very satisfying indeed.

We didn't linger in Ventimiglia after dinner - it was a great meal, but quite a scary place (!) - and so once we finished eating we headed straight back to the station, and got on a train back to Nice.



Comment 1
Ventimiglia is quite crap, I guess that it has been made only because they needed a border town or something... Still you managed to get the pizza! :P Food in Nice is not so great in my opinion, too touristic!

Posted by Lox at 2009/07/05 17:40:11.
Comment 2
Hmmm yea it had the feeling that it used to be quite significant once upon a time but since then it had fallen into disrepair, and it seems like hardly anyone visits these days. Strange really - I would have thought anywhere along the Mediterranean with a beach would automatically attract tourists!

Posted by John at 2009/07/05 18:20:16.
Post a comment