Zurich, Paris and London
Posted on 2009/03/22 09:17:09 (March 2009).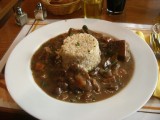 [Saturday 21st March]
Another early start this morning - set my alarm for 6AM which meant I only had about four hours sleep. I got up, had a shower, and (with some difficulty - the staff were still asleep) checked out of my hotel and got to the station in time for the 7AM TGV from Zurich to Paris.

It was a lovely run, despite nursing a bit of a hangover, I had managed to get a seat in first class for pretty much no extra money, which meant lots of room and a very comfortable seat in a thankfully very quiet and tranquil carriage. I sped through the delightful pastoral scenery of Switzerland and France beneath a gorgeous blue sky, which gave it an almost surreal quality. It was really tremendous

I arrived in Paris just before lunchtime, and had left myself a few hours between trains to get a spot of lunch, and do a bit of shopping. So I wandered from Gare de L'Est back to Gare du Nord, dropped off my bag at the coin locker (which was a bit of an annoyance, as it meant today I had to go through metal detectors a total of three times), and then headed for the Metro.

Recent trips to Paris had been somewhat of a disappointment on the culinary front, so I was determined for once that if I was only going to achieve one thing in Paris this afternoon, it would be to get a decent meal. Thanks to my Android phone (and the French pay as you go SIM, which magically seemed to have a data connection that just worked) this time I came armed with the formidable power of The Internet (TM). I found this page which listed a few places. So I decided to give Le Potager du Marais ago, and was effortlessly guided there by the ever wonderful Google Maps.

I was very pleased indeed - rather than some sort of ethnic mish-mash, or bizarre health food, they actually appeared to serve vegetarian versions of French classics, which is exactly the sort of thing I want to eat. I started with a Tartare d'Algues (a seaweed salad) and for main had the Seitan Bourguignon. Both extremely satisfying and tasty. Having had so many crap meal experiences in Paris, the contrast between that and this wonderful vegetarian fare, served by some extremely pleasant staff, left my almost teary.

After lunch I wandered in a happy haze through the streets of Paris, bathed in glorious spring sunshine. It was as if a curse had been lifted - I had always previously had my visits to Paris overshadowed by the inability to find anything to eat, but now that I'd actually had a decent meal I saw the city in a whole new light, and began to understand why people like it so much.

My long meandering stroll took me by way of Galleries Lafayette, where I did some food shopping - omiyage for Chie and a few other bits and pieces. It was such a pleasant day that I decided to just walk back to Gare du Nord.

The last leg of my journey - the Eurostar back to London - was (to start off with at least) not quite as pleasant as other parts of the trip had been. I think I had started to get a bit tired and irritable by this point. The hassle of retrieving my luggage (which required several attempts to get through the metal detector, as I emptied various types of foreign currency out of various pockets), and the longer-than-usual queues for the security checks to get to the Eurostar departure lounge (with yet more emptying of pockets) did fray my temper a little.

Once I finally boarded the train, my carriage was extremely full and I was on a table crammed in with three strangers, which, after the delightfully spacious experience of the Paris-Zurich train this morning, and given that I was now quite tired and a bit flustered, made me even more irritable. So I decided to abandon my seat, and instead seek the calming solitude of the little vestibule at the end of the carriage. It was right next to the engine, so it was a bit noisy, but the absence of any other people (with the exception of the guard at various points) was a huge plus, and in the company of Adam and Joe (via one of their podcasts) I did eventually manage to relax.

I arrived at St. Pancras at 7, where Chie very nicely came to meet me, and together we went to get some dinner on Drummond Street at an Indian vegetarian place called Chutney's. We then got the bus back home, and I pretty much went straight to bed.

Looking back even the journey home from the ski trip was quite fun - although I had actually skipped breakfast in the morning, I could theoretically have had breakfast, lunch and dinner in three different capital cities!



Comment 1
Keith and I walked from Est to Nord last year. Did you go up the flight of steps that splits in the middle?

Posted by John's Mum at 2009/03/23 22:26:29.
Post a comment