Christmas Day
Posted on 2008/12/31 15:48:58 (December 2008).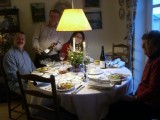 [Thursday 25th December 2008]
It was a fairly quiet Christmas day in Abergavenny - just the five of us - me, Chie, Vera, Robin and Robert. Chie and I got up fairly late, just in time for brunch with the "grown ups". After brunch it was time for a bottle of fizz, and then the obligatory present opening session.

Every year in the run up to Christmas my family (like I assume most other families) goes through this ritual of saying "let's not overdo it this year", "don't spend too much on presents" and so on. Even more so this year several members of my family had made a big deal about being very frugal when it came to buying presents, so Chie and I, not wanting to rock the apple cart, had just got token offerings for everyone. This edict had clearly not made it as far as Robin and Robert (or they just ignored it!), as they rather embarrassingly got us somewhat lavish gifts. Even Vera, one of the main proponents of this supposedly frugal Christmas had splashed out on a very nice hardbook book. I'd like to officially record here that when all this propaganda is spouted again in the run up to Christmas next year, I won't be listening!

There then followed the long slog of making Christmas dinner, which despite having all five of us mucking in seemed to take about four hours. So it was about 4 o' clock in the afternoon by the time we finally sat down to eat. The meat eaters had turkey and ham, and I had a "festive nut roast" which was about as exciting as it sounds (by which I mean not very). Still, all the trimmings were nice, the roast potates, parnsips etc.

Having all stuffed ourselves in the traditional manner for the main course, none of us could manage dessert at the time, so it was getting on for 9 in the evening before we finally got around to having a bit of Christmas pudding. Oh, and some cheese and biscuits. Amazing how you can be completely stuffed at 5 in the afternoon, but still manage to feel peckish again in the evening.



Post a comment