Cookham, Marlow and Bourne End
Posted on 2008/09/14 14:52:03 (September 2008).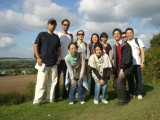 [Saturday 13th September]
A few people at Chie's company had organised a day out walking for today, and I was also invited along.

The plan was to follow a circular route from Cookham, going via Bisham, Marlow, Cockmarsh and then ending up back at Cookham again. Although in the end we stayed a bit longer than expected in Marlow, so decided to cut our walk short at Bourne End on the way back.

It was a jolly nice day out, quite an interesting and varied walk, a nice group of rambling companions, and pleasingly punctuated with pubs along the way! Although having said that, we were actually turned away from the first pub we tried to go in (the Bull Inn in Bisham), as it appears it has been converted into more of a restaurant, and the rather snotty waiters were worried about the carpet. That struck me as a bit short sighted on their part - the place was empty otherwise, and it seemed a bit daft to turn away 11 covers just for the sake of having to possibly push the hoover round afterwards.

Oh well, their loss. Instead we wandered into Marlow and lunched somewhat unadventurously at the Slug and Lettuce there - unsurprisingly it's quite hard to find anywhere that can seat 11 people (with muddy shoes).

We made up for the somewhat unexciting chain pub at lunchtime with a delightfully eccentric pub at the end of the walk - The Bounty in Cockmarsh, just over the bridge from Bourne End station. It was like the sorts of seaside pubs I remember going to as a child in the 1980s - sort of endearingly tacky. It was covered in signs of the ilk of "you don't have to be mad to work here, but it helps", and the sign on the outside described it as part of "The People's Republic of Cockmarsh" - so clearly the owners here are subscribers to the Hay-on-Wye brand of eccentricity, of which I thoroughly approve.

The weather was actually quite reasonable by that point in the day, and so we took advantage of this, sat outside, and had what would probably be the last Pimm's of the season.

Incidentally when I went to the bar to order two jugs of Pimm's, the people behind me in the queue said "oooh, I fancy Pimm's too", and then the people behind them also said "yea, I think we'll go for Pimm's". I tried to make a joke at that point by pronouncing "I'll have a Babycham!" (a reference to that 80s TV ad), which no-one seemed to get. Ho, hum.

Anyway, see the pictures for more details on the bits inbetween the pubs.



Post a comment