Kew Gardens
Posted on 2008/08/31 16:09:32 (August 2008).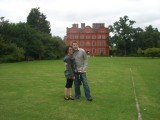 [Monday 25th August]
Having lost most of yesterday to work, I was determined not to repeat that and actually get out and do something on Bank Holiday Monday, i.e. today. So we decided to resume our plan to visit Kew Gardens.

Neither of us had been before and overall I rather liked it, although as with a lot of these things I'm not sure the price is entirely justified - £13 per head is a lot really, for what to my mind is more of a park than gardens.

Anyway, vulgar things like money aside, it did make for a nice day out, and the pictures probably tell it best (which is another way of saying I'm feeling too lazy to create a detailed written acount).

We stopped off in Richmond on the way back to visit the Waitrose there and buy things for dinner. I made a toad in the hole with roast potatoes etc, which all came out rather well (with the possible exception of the gravy - I was trying to be clever and avoid using gravy granules, but I don't thinking I was fooling anyone!).



Comment 1
I think your pheasant is actually a peacock.

Posted by John's Mum at 2008/08/31 16:48:18.
Comment 2
Yes that's what I meant to say.

Posted by John at 2008/08/31 17:05:19.