One Hundred Million Dollars
Posted on 2008/08/03 12:11:10 (August 2008).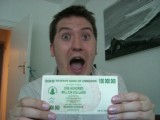 [Tuesday 29th July]
Was back at work today. I felt rather pleased with my relative lack of "outage" as my manager often puts it. Despite having booked two whole weeks off, I only had three days where I completely wasn't working, followed by three days working from home, and then for the rest of the time, as of today, was back in the office. This was largely helped by having had the operation first thing on a Saturday - so in total I did have five whole days of pretty much complete rest before resuming work, and even then it was in the comfort of my own home.

A couple of people at work did enquire whether I might have come back too soon, but the surgeon had said yesterday I was ready to go back to work, and I think the originally cited two weeks had been a worst case estimate all along. The walk into work was a bit more effort than it had been previously - although partly this may just have been psychological, given that for the last week or so I'd been mostly stationary. Other than that though, I felt pretty much fine.

The other big highlight of today was that I received $100,000,000. For those of you who struggle to read big long numbers, that's one hundred million dollars. Which was nice.

You probably ought to take a close look at the image above to avoid any confusion.

STOP PRESS! At the time at which I bought this note on eBay, hyper-inflation in Zimbabwe had meant 100,000,000ZWD was worth something like a quarter of a pence in GBP (I paid well over the odds for it for the novelty factor - £10). I checked again on xe.com just now, and it appears the ZWD has just been redenominated - and now 100,000,000ZWD is worth over 6 million pounds!

Although there's more than a slight chance they'll have some way of distinguishing between the new and old money. :)



Comment 1
Now that's a great speculative operation John! :D

Posted by Lox at 2008/08/03 16:21:27.
Comment 2
I love the picture in the background

Posted by Simon at 2008/08/04 11:45:55.
Comment 3
Yes I rather like it too Simon!

It's actually a bay in North Cornwall, close to Bude. See here for more details:

/john/articles/00001591.html

Posted by John at 2008/08/04 13:01:58.