Back to London
Posted on 2008/07/04 20:17:30 (July 2008).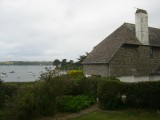 [Friday 4th July]
We'd originally arranged to drop off our hire car around 2, and get on a train back to London shortly after that. However, we were up and packed bright and early, and had left the house by 9:30. So given that we didn't have any particular plan for the morning, I thought we'd probably be better off just getting an earlier train back to London.

After a quick visit to the conveniently located Sainsbury's in Truro to fill up on petrol and buy some things for lunch, we dropped off the car, and before 11 we were on a train bound for London.

The train was a bit delayed en route (apparently just because of the number of passengers/luggage getting on at each station) and so in total it was a five hour journey from Truro to London - we arrived in Paddington at 3:45. I think this train goes quite slowly through Devon and Cornwall - given that it's about 300 miles (probably that figure is as the crow flies, but it gives a general indication) from Truro to London that's an average of about 60 miles an hour over the whole journey. Theoretically these trains are capable of 125 mph, although I wonder if they ever actually get to that speed in practice.

For comparison, Tokyo to Hiroshima is apparently 422 miles (I guess that's as the crow flies again), and that's a 4 hour journey - so the shinkansen averages a little over 100 mph.

The interesting thing is that even our fairly old Intercity / HST trains could theoretically manage the same speed, but I guess it's really down to a question of the quality of the lines, points, signals - and the coordination with other trains. It's a bit of a shame to think that while the rest of the world has moved on, train journey times in the UK are not really any shorter now than they were 30 years ago (since the introduction of the HST in the late 70s - see here for sample timetables on the "Cornish Riviera" line over the last century). It doesn't feel like there's any major effort to make them any better over the next 30 years either.

Whilst I actually don't mind the occasional four or five hour train journey, there are a lot of other people who still need persuading to use trains instead of planes/cars, and I'm sure the time is a big part of the problem. The other one of course is the cost, which really ought to be much easier to solve - and yet again I feel somewhat pessimistic that there will be any serious improvement in this over the next 30 years.

Anywho, musings about the British rail network aside, we were back at the flat by 4 something, and I have to admit it actually did feel quite good to be back - as lovely as the house we'd been staying in for the last week, there's no place like home and all that.

We were feeling too lazy to cook, so for dinner we just got some pizzas from our nearby Pizza Express to take away. Having had a fairly disappointing time culinarily speaking in Cornwall* (it's not a place where vegetarians are particularly welcomed) I devoured my Quattro Pomodori somewhat ravenously.

* For a somewhat humorous attempt to improve this image see here.



Comment 1
I love the advert of Cornwall/Italy... I wonder what were they thinking!! :D

As for the trains we have the same problems in Italy, it's the fact that we are living in countries that are very old and now getting infrastructure new is quite hard... Takes a lot of time and money and problems to clients...

Posted by Lox at 2008/07/05 09:00:04.
Comment 2
Nice place, truly.

Posted by Sheri at 2008/07/07 08:50:24.
Comment 3
I think the problem with our trains is that anytime they try to improve lines, the NIMBY lot say you're not having my land, or that is a site of scientific interest, and so on. Then there are the lot who need to use the trains to get to work, so don't want major disruption for months/years on end. So apart from the fact they companies have no money, they are damned if they do and damned if they dont.

Posted by Mad Mumsie at 2008/07/09 14:07:47.
Post a comment