Hay-on-Wye
Posted on 2008/05/26 16:13:50 (May 2008).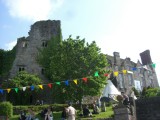 [Saturday 24th May]
Today was forecast to be the only nice day of the whole weekend, so we decided we ought to make something of it. Robin suggested either Bristol or Hay - and Chie and I decided we rather fancied Hay.

We took the scenic route on the way, over the mountains, stopping off at Llanthony Priory for a quick wander around. As Vera said "it was a lovely run".

On arrival at Hay we had lunch at the Swan hotel, and then Chie and I went to have our caricatures done. There's a chap called Roger Pratt (?) a professional cartoonist, who has a little studio in Hay. Not long after Chie and I met we'd been to visit Hay, and he'd done our portraits then as well. We thought it would be nice to have them done again 8 years on for comparison. Unfortunately I hadn't shaved this morning, and so it looks like I'm now stuck with a very stubbly caricature of myself!

After being sketched, we met up with Vera and Robin again for a bit of a browse round the many bookshops for which Hay is famous. I recall on previous visits (the last one being around 8 years ago it would seem) waiting impatiently outside whilst various family members browsed endlessly. Well it seems in the intervening time I had turned into a middle aged man, and on this visit I found the bookshops absolutely fascinating - and it was me making everyone else wait impatiently outside! I found some interesting old books on whisky and pubs, and also bought a lovely old Penguin edition of one of P. G. Wodehouse's Jeeves stories.

We then had afternoon tea at a fabulously eccentric place (very Hay-on-Wye) called something like the Mad Cow's Champagne Slaughterhouse. Very "eclectic" decor, and very nice cake.

After a final browse around the bookshops we decided to head back to Abergavenny. A jolly nice day out.

Robin threw together a very eclectic sort of a meal in the evening, with all sorts of interesting vegetable dishes.

I washed it down with some Duchy Originals Ale which I heartily enjoyed - I have yet to find one of Charles' products I do not like. He must be a very busy chap.



Comment 1
Charming priory. So well kept. So British. The French, here, seem to be desperatly unwilling to preserve and make the most of their medieval ruins. No such thing as your English Heritage. Pity.

Posted by Sheri at 2008/05/26 20:28:27.
Comment 2
Ah, le charme de la campagne anglaise...!

Posted by Sheri at 2008/05/26 20:31:02.
Comment 3
Well Henry VIII did make a fairly concerted effort to knock the whole thing down... :)

Posted by John at 2008/05/26 21:42:44.
Comment 4
English countryside is simply great! I like the picture of the car with the road and the grass... marvellous!

Posted by Lox at 2008/05/26 22:11:43.
Comment 5
...well technically that's Welsh countryside. :)

Posted by John at 2008/05/26 22:31:16.
Comment 6
Ah yes, that looks like a very pleasant day out indeed!! I think the last time I went to Hay was probably over 8-years ago too, now... Must go again too...

Posted by Nigel at 2008/05/26 23:50:15.