Chelsea Flower Show
Posted on 2008/05/26 16:12:51 (May 2008).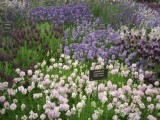 [Thursday 22nd May]
Chie was keen to visit the Chelsea Flower Show this year, so had booked tickets a while back. So after work tonight she came and met my at my office, and we walked from there.

We spent about an hour-and-a-half wandering around the various exhibits. I don't think I'm really qualified to give a deep and insightful commentary of the displays, but we did particularly like the strawberry plants and a Japanese garden which involved lots of moss.

Back at the flat we weren't sure what to cook as we didn't really have much in, but after a bit of rummaging around in the cupboard we found all the necessary bits to make enchiladas. They actually came out surprisingy well.




Comment 1
Some of the pictures are great! i like taking pictures of flowers, though I would have liked you taking more close shots with the macro and similar oddities...

Posted by Lox at 2008/05/26 20:16:26.
Comment 2
No.

Posted by John at 2008/05/26 21:41:37.
Comment 3
Oh you lucky, lucky things. And to be able to walk home as well.

Posted by John's Mum at 2008/05/27 22:25:28.