The Speaker
Posted on 2008/05/26 16:11:11 (May 2008).
[Tuesday 20th May]
Yet another colleague was over from the US this week, and as always I took it upon myself to entertain our visitor. On our way to Regent's Park on Sunday we had passed through a part of Westminster which had a couple of interesting pubs - particularly The Speaker, which had caught my eye owing to this fantastic sign in the window:



THIS IS A REAL PUB

We do not have:
A). A Big Screen
B). Music
C). Fruit Machines

We do have:
LOTS OF ATMOSPHERE

I felt like the management of this fine establishment were speaking directly to me - the list of things they pride themselves on not having is exactly the set of things that spoil a pub for me.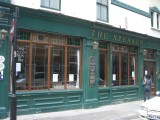 So The Speaker was chosen as the first venue for tonight's introduction-to-British-pubs for our visiting colleague. I was extremely pleased - friendly bar staff, very well kept beer (I had a couple of excellent milds in there), and, like the sign said, it did in fact have atmosphere - without being noisy or overcrowded. It is unfortunately a bit of a trek from the office, but I feel compelled to make visits to this great little pub a regular occurence.

Spurred on by this success, I then took our group on a brief tour of a couple of other pubs in the area that I'd spotted, including the (don't remember the name) and the Royal Oak. Both OK in their own right, but the undisputed gem of the evening was The Speaker.



Comment 1
Wow this place looks great... I want to go the next time I am in London!

Posted by Lox at 2008/05/26 18:02:46.