Hanami
Posted on 2008/04/02 07:51:10 (April 2008).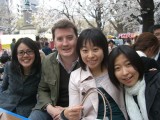 [Sunday 30th March 2008]
Today was our last full day in Tokyo.

On the one hand it was a great day, as a couple of things fell into place very nicely - a lot of Chie's old university friends were in Tokyo, having stayed over the night before, and also the cherry blossom was in full swing - so the combination of these two could mean only one thing - hanami. Anyone who has ever been to Japan in this season will know that the hanami is one of the biggest highlights of the Japanese year.

On the other hand the weather wasn't that great and there were a certain amount of frustrating logistics to overcome. I had stayed at Aoki-san's house in Chofu the night before, and Chie had stayed with her friends a little further down the Keio line towards Shinjuku - so both effectively being suburbs on the West side of Tokyo. Tonight we'd both be staying at Chie's old work friend's place which was sort of on the way to Narita airport, which meant being right over on the East side of Tokyo. The plan - quite sensibly - was to have the hanami in the afternoon in the grounds of Yasukuni shrine, which is right in the centre of Tokyo. However getting there still seemed to consume a frutratingly large part of the day.

Our luggage had become a huge nuisance by this point, and by the time we had struggled across Tokyo with it, and then found a convenient place to deposit it, and then forced our way through the crowds to get into Yasukuni shrine (as well as waiting pointlessly outside for half an hour due to a miscommunication on where we should be meeting) it was already after 2 o' clock. It had basically taken me three hours to get from Chofu to there.

So once we got there it was great - I'd known this group of Chie's friends for as long as I'd known Chie (in some cases longer), so it was great to see them all again, and despite it being a tad on the chilly side it was great to be out in the open air, enjoying the cherry blossom and a drink or two. There were a number of stalls setup in the grounds of Yasukuni, each with a few tables in front of it, and the guy serving us at the stall we chose was spectacularly camp. One of my favourite lines, after bringing us some food, was "futotene!" - it literally means "get chubby!". I guess that would only really have worked at a table of very well groomed young ladies such as ours (presumably the comment was redundant in my case).

Unfortunately though, by about 3 it had started to rain, and it was no longer particularly pleasant to sit outside. So that was it then - the entire sum of my hanami time for 2008 came to just under an hour. Ho, hum.

We then took a quick look at the Yasukini shrine itself, and then headed out, thinking initially we should try and find a cafe or something, but it seemed everywhere in the vicinity was full. Hardly surprising really - there had been thousands of people at the park, it had just started to rain, and they'd probably all had similar thoughts.

Eventually Chie decided we should probably just head off, as it would take a while to get to her old work friend's place on the East side of Tokyo, and we were due there for dinner. So we said our goodbyes and were on our way by 4. Pretty frustrating today - I probably spent four or more hours today lugging bags about and travelling across Tokyo, only to see Chie's friends for less than half that time. Oh well.

So we then spent the evening at Ochiai-san's place, somewhere near Motoyawata (the only place name I vaguely recognised in this otherwise entirely unfamiliar part of Tokyo). Actually we can't call her Ochiai-san any more - since that is her surname (as she was a colleague of Chie's, this was the polite way to address her at the time) and she has since got married. So I wasn't really sure what I should call her any more, and just avoided saying her name at all for the whole evening. They ordered in pizza for dinner and we had a very pleasant and relaxing time chatting and comparing wedding photos.



Comment 1
Interesting place itself Yasukuni John.. Did you go inside the museum?


Posted by Jerry at 2008/04/03 01:10:50.
Comment 2
The picture of Chi'e with cherry blossom is so beautiful I have saved it. You've obviously had a fantastic holiday.

Posted by John's Mum at 2008/04/03 10:41:33.
Comment 3
I'm thoroughly cheesed off now, looking at all those fantastic pics..
Hmm.. Lufthansa can get me out there next week for a reasonable price..

Posted by Jerry at 2008/04/03 17:52:24.
Comment 4
Sorry Jerry!

Of course if you were going to go on a whim, right now would be the best time to do so - the sakura is in bloom, the weather is still pleasant etc... Leave it until next month and it would already starting to be getting a bit too hot for my liking, and then that seems to continue right through to September.

Actually September is another good time in my opinion - the weather has cooled off a bit, and you can just catch the end of the beer garden season (I think my favourite - Takaosan - closes mid-September).

Although are you sure you want to fly Lufthansa? I tried them once a few years back and didn't really get on with it. If you don't mind changing, I thought KLM usually gave a better standard of service, and were similar sorts of prices to Lufthansa (if not cheaper).

Posted by John at 2008/04/05 10:27:51.
Post a comment