By the Sea
Posted on 2008/04/02 07:33:08 (April 2008).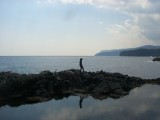 [Thursday 27th March 2008]
We were only staying the one night on the Izu peninsula, and so this morning we checked out of our hotel and started to wend our way back to Tokyo.

We all mutually decided it would be nice to stop off somewhere on the way back, to enjoy a bit of the fine coastal scenery on the Izu peninsula, and perhaps find a nice spot for a picnic. So we got the train to Izu-kogen, a little town a bit further North up the peninsula from Atagawa.

From Izu-kogen station we took a stroll down to the coast to see one of the two famous supension footbridges that make up part of the coastal path there. Conveniently just round the corner from there was a very nice spot down on the rocks where we could stop off for lunch, right by the sea.

That hour or two spent down by the sea there was probably one of my favourites bits of the whole holiday - it was a very pleasant spring day, the sky was blue, the air was fresh, and it was a lovely picturesque spot, improved even more by a nice lunch and a beer or two. There's something indefinably great about eating and drinking in the open air, even more so when it is by the sea.

We then meandered back to the town centre of Izu-kogen and then took a wander along some of the town's cherry tree lined streets - pretty much our first decent sakura of the season. Even though the sakura was not yet in full bloom the festival atmosphere of the hanami was already underway, and the streets were lined with stalls, and people were picnicking out on the lawns.

We then got the train back to Tokyo once more. For tonight Chie's Dad had booked us all into a hotel in a fairly non-descript district of Tokyo called Kamata. It was a bit of a contrast to the Merdidien of the other night - this being more of a "business hotel" with a room about as small as it could conceivably be made. Still, it was cheap. For dinner we went out and found an Italian restaurant - I wanted a bit of a break from Japanese food.



Comment 1
Oh yes Kamata Ohta-ku.. My Dojo was on the same line, a few stops up at Kugahara.. Damn good Ryokan there..

Posted by Jerry at 2008/04/03 01:14:39.
Comment 2
We should have tried to hunt down that ryokan rather than staying at the rather dreary business hotel we ended up in!

Posted by John at 2008/04/05 10:17:29.