Atagawa Onsen
Posted on 2008/04/02 07:32:10 (April 2008).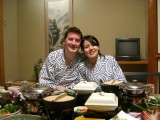 [Wednesday 26th March 2008]
The original plan for today was for a family trip to an onsen as a sort of mini post graduation celebration for Yuka-chan. As it turned out though, Yuka was now entrenched in job hunting and wouldn't be able to join us. So the rest of us went along without her.

Chie had extensively researched possible venues before this trip to Japan, and had eventually settled upon the Izu peninsula. Chie and I had been to the Izu peninsula once before, again just for one night, and had enjoyed it very much. This time we went to a different town (Atagawa) which we had seen from the train on the previous visit.

We got on the train in Tokyo around midday, and then had a very pleasant run from there down to Atagawa, with a bento for lunch on board (Chie and I had stopped by a department store in Ginza on the way which she'd found out does vegetarian bento boxes).

We arrived at our hotel around 2:30, and after checking in and poking our noses around a bit, we decided to go out for a stroll along the seafront. It was a bracing sort of a day, a tad windy, but otherwise fairly warm and with a lovely blue sky.

We then headed back to the hotel, and before dinner me and Chie went for a swim and a stint in the jacuzzi.

Dinner was a typical ryokan feast, served in the room (actually Chie's parents' room which was next door to ours). It wasn't quite the culinary pinnacle that the one in Shimoda (at the Kurofune hotel) had been, and our Nakae-san was a little ill-tempered, but still there was plenty of variety in the food as always, and I definitely wasn't left hungry.

After dinner Chie and I went to try out the actual onsen baths. There was one mixed onsen (I decided not to bother with the separate ones), with a sort of jungle theme to it, lots of little pools to bathe in, and perhaps best of all a waterslide (admittedly not that classy, but quite fun - I haven't been on one of these for years).

All in all very nice.



Comment 1
The food in your pictures looks superb, John!!

Posted by Bryan at 2008/04/02 19:58:40.
Comment 2
Yes Bryan! They do really go in for presentation at these places... Although actually to eat it was a tad underwhelming if anything - actually not much variety in flavours, and I don't recall anything being particularly outstanding. Still, it was a nice experience nonetheless.

Posted by John at 2008/04/05 10:16:22.
Post a comment