Kyoto to Tokyo
Posted on 2008/04/02 07:17:01 (April 2008).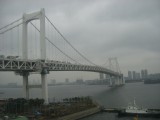 [Monday 24th March 2008]
After a late breakfast at Dale and Erina's house, Chie and I headed back to Kyoto, and from there got on the Shinkansen back to Tokyo. We had initiall thought about visiting another temple in Kyoto, but then decided not to bother on account of having to mess about with our bags, and wade through the crowds of people again. A second plan to stop by Fuji Gotemba distillery on the way to Tokyo was also abandoned when we realised it was already getting on a bit, and by the time we got there it would probably be closed. So we just went straight back to Tokyo.

Chie's Dad had booked for us to stay at Le Meridien on Odaiba for the next two nights. He'd found a superb deal - somewhere in the region of 60 quid a night. Although being on Odaiba means it is not the most conveniently located of Tokyo's hotels, it was by far the most spacious and upmarket of all the hotels we stayed in on this trip, and also boasted some rather nice views.

After checking in, both Chie and I headed back into the centre for separate evening engagements. Chie went to meet somebody from the Tokyo office of the company she works for, and I met up my friend Tanaka-san in Asakusa.

Went to an assortment of bars, including good old Bar Kamiya, and also Kagetsu (which I may have inadvertantly referred to elsewhere as Kazuki), the ramen chain which does a vegetarian ramen. Tanaka-san seemed very keen to try it, in some state of disbelief that this was even possible, and actually seemed to quite like it.

It was superb to see Tanaka-san again - although he came along to my birthday do on the first night we were in Japan, it had been quite a large grop in the end so we hadn't had much time to talk. So tonight we had some real "quality time" together, to chew over life, the universe and everything.



Post a comment