You don't know what you've got 'til it goes up in price
Posted on 2008/01/27 17:29:15 (January 2008).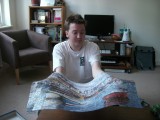 [Saturday 26th January]
Still no resolution as of yet on the accommodation issue. I was supposed to get back to the management company by the end of this week (i.e. yesterday) which ended up not quite happening. So there is still a big question mark over this.

Chie, ever the frugally minded sort, seemed to be leaning more towards wanting to move out, and so had arranged to view some flats in the local area. A surprising number of estate agents didn't seem to be able to arrange Saturday viewings, and so in the end we only saw one flat today. It seemed a typical sort of price for the area and size - about half way between what we're paying now, and what we would be paying as of next month if we stayed at the current place. Whilst the outside of the building looked quite promising, the inside of the flat was really quite shabby around the edges - there was even a bit of an unpleasant smell to it. If anything it was slightly smaller than what we have now, with a lot less of the benefits we get where we live (use of the gardens etc), and in much, much worse condition - our place had been newly refurbished just before we moved in and everything was in great condition - whereas this place was bordering on studenty.

I can't quite get my head around the fact that people expect to be able to rent out places in that condition, at those sorts of prices. Yes of course it is the area that drives the price up, but surely if you want to live in that area it's because you've got a decent paying job, and if so you probably have some basic expectations about the sort of quality of place you want to live in.

Whilst I always take everything estate agents say with a huge pinch of salt, I did give my honest impression of the place to the woman who had shown us round, along with my incredulity about the condition of the place, given the price. She said that for that price, in that area, that was pretty much the best you could hope for - had it been newly refurbished it would go for a lot more, and so the only way to get something in a better condition would be to look for something smaller.

Her advice was basically just to stay where we were - again, I instinctively don't trust estate agents, but when their advice is to do something which in no way profits them whatsoever you can't help but have at least a glimmer of hope that they might be saying that out of genuine honest human compassion.

OK maybe that's a bridge too far, but my takeaway from the viewing was basically that what we've got right now is actually a really nice flat, and unless we were going to move to a wholly new area, we probably weren't going to do any better for the money.

Chie's friend Mika-san had come to visit us for the afternoon, so we had lunch with her (at Nando's, of all places) and she also came along to the flat viewing - it was good to have a second opinion. On the way back to our flat I showed her around the gardens etc and managed to completely convince myself at least that we ought to just stay where we were for the time being.

Mika-san headed off around 6, and for dinner me and Chie had, somewhat to my embarrassment, a frozen Linda McCartney lasagne each - eaten straight out of the little plastic dish. They were something crazily cheap like 84p each.

Later on in the evening I wacthed a film on the telly called Man on Fire, with Denzel Washington being generally very depressed and/or angry in Mexico. It was entirely not my sort of film, but somehow I got drawn in by it. It was interesting in that it painted a picture of Mexico City as an extremely dangerous place to live, and then in the closing credits had a message saying something like "We couldn't have made this film without the help of Mexico City - a wonderful place".

Well, if nothing else I imagine the rents are a bit lower there.



Comment 1
This flat thing seems like its being a bit of a pain to say the least!!!
Do you actually have to renew to another shorthold tenenacy? Whenever I have rented, at the end of the 6 months you move onto a rolling 2 months notice from the landlord and 1 months notice from the tennant. I thought this was standard in shorthold tenency maybe it needs to be in your contract, that way you can still upsticks in a few months when you are more prepared.

Posted by Kev at 2008/01/27 21:48:58.
Comment 2
John, frankly speaking I would stay in the flat, I didn't write anything the previous posts, but you are not considering the COST and stress of moving on a very short notice (not to mention waste a lot of time looking for another house). I'd recommend to ask the tenant the longest contract possible, the from March (let 1 month pass) I would start looking for a house to BUY, tanking all the time in the world, but since you are married, got a job and so on, it might be a sensible investment at this point of your life. Paying high rent is useless, interest rates are not so bad in the UK, despite a real estate market that is a bit crazy, I am sure you can find something.. MM, Rob and all the other Londoneers maybe can help..

Posted by Lox at 2008/01/28 09:34:21.
Comment 3
Well I really don't know what to suggest, other than it would surely be a better long-term goal to move out of the very centre to a more relaxed and potentially cheaper (relatively) place, though with the addedd stress of having to travel to work.

One other thing to bear in mind is that (around here at least) utility companies haev just put up their charges by 15% which is hard to bear when you are financially stretched.

Posted by Nigel at 2008/01/28 09:45:14.
Comment 4
Now look! I intend to take Christelle on a mini-break to London. I hope you will have found a decent place by the time, cose it is also my intention to squat your appartement...!

Posted by Sheri at 2008/01/28 18:28:51.
Comment 5
Actually I wanted to do the same thing that Sheri said above (with Christelle obviously!!!) so make sure you get a decent house PRESTO, because I'd hate to make you pay for a 5 star hotel... :D

Posted by Lox at 2008/01/28 20:07:39.
Comment 6
Yes Lox - I can imagine you'd make me pay for it, get a recepit, and then claim it back on expenses. :)

Posted by John at 2008/01/28 21:11:46.
Comment 7
Now that's a GOOD IDEA! :D

Posted by Lox at 2008/01/29 08:03:20.