Brussels
Posted on 2008/01/26 17:09:26 (January 2008).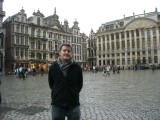 [Saturday 19th January]
Owing to the pricing structure on Eurostar, to have set off for the continent last night would have cost us an arm and a leg - and even some of the fares at sensible times today were a bit daunting, and some of which mean we'd have already lost most of the day by the time we got there. So I ended up booking an early train this morning - leaving St. Pancras at 8, which meant we had to leave our flat just before 7 - obscenely early for us on a Saturday morning.

Anywho, we boarded the train at 8, and enjoyed a very pleasant two hour run to Brussels. It was only a bit extra to get into "Leisure Select" (Eurostar's kind of First Class - ish - for non business travellers), so I had opted for that, which meant we had nicer seats, the carriage was a lot less crowded, and we also had breakfast laid on. It was sort of airline style food but I actually quite liked it.

We arrived in Brussels at 11 Belgium time, and after some confusion about exactly how to get into the station from Brussels Midi, we headed over to the Théâtre Royal de la Monnaie. They offer tours on Saturdays at midday, which Chie had heard about somehow or other, and was keen to go along for. We had some difficulty finding our way in initially - the main entrance was very closed with no signs or anything, and we eventually discovered, partly by chance, that the tour actually started from a different building, at the back of the theatre. Anyway, that was quite interesting, although I couldn't help but feel guilty that they conducted most of the tour in English - apparently for my benefit. I would have been quite happy to listen along in French (even Flemish at a pinch), but when they asked for a show of hands of who spoke what, I thought I'd better vote for English for the sake of the four Japanese people on the tour who didn't seem to speak any French.

After the tour, we thought we should wander through the city centre to our hotel. The Grand Market Square (whatever you call it) was actually quite impressive I thought, and our hotel was just around the corner from there.

Chie had chosen the hotels this weekend. One of the overriding revelations of this weekend were just how much better value hotels were on the continent (well, Belgium and France anyway). The place tonight came in at under £70, and whilst it was pretty basic it modern, immaculately clean, and extremely convenient - just a couple of minutes walk from the main square.

The remainder of the day passed in a blur of wandering about, eating and drinking. We started off with some frites (with "samurai" sauce) for lunch, then after a bit more of a wander stopped off at a bar for our first couple of Belgian beers - the kriek there was particularly great. A bit later on we popped into a fairly upmarket cafe called Wittamer in what I assumed to be Brussels' answer to Kensington or Knightsbridge for a coffee and some fancy cakes, which Chie seemed to be rather pleased with.

For dinner we had the usual mass of indecision, but somehow eventually managed to settle on a place called something like Le Peon Royal. I had a pasta dish there. Not very Belgian I know, but the city wasn't exactly overflowing with vegetarian options. Still, it was actually pretty good - it was a truffle tortolloni and to my surprise I could actually taste the truffle in it. Plus of course some very good beer.

All in all a rather enjoyable day in Brussels.



Comment 1
Re: that street name: Yoko Tsuno is a character in a book by a Belgian writer. They don't have a lot of real people inBelgium to name their streets after. See more here:
http://en.wikipedia.org/wiki/Yoko_Tsuno

Posted by John's Mum at 2008/01/28 11:52:05.
Post a comment