John's New Club
Posted on 2007/08/17 20:32:06 (August 2007).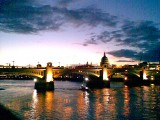 [Thursday 16th August]
In the interests of getting to know a few more people at work, and hopefully cultivating a bit of a social life in London, I came up with the idea of starting a sort of club. I'm sure you won't be surprised to learn that it isn't any kind of sports related activity. It's rather unimaginatively titled "pub club", the idea being to discover new and interesting pubs in London.

So I sent out an email with my idea earlier this week, and to my surprise, so far 15 people have signed up for it. Which was really nice.

As a result, starting next week hopefully, I'll be organising weekly tours of some of my favourite pubs in London (and some that I've read about but haven't been to yet) with assorted people from work. With any luck the other pub clubbers will also have some good recommendations, and hopefully after the first few sessions other people might even volunteer to plan our outings.

The first two tours are likely to be very easy indeed - for the inaugural session I have pencilled in the classics around Chancery Lane (the Cittie and the Mitre), and then on the second outing I planned on venturing to the also-very-fruitful Bank area. For that difficult third tour I thought about going out on a limb a bit, and actually - gasp - going South of the river.

So tonight was a research exercise for that third tour - for which I thought Southwark would be a good candidate, particularly encouraged by the guru-like Aidain's recommendation for this area as a pub crawl destination. Chie to my delight was keen to come along and assist in this endeavour, and so after work we both headed over to London Bridge station, from where our foray began.

I've already been to the George a few times, and know it to be rather fantastic, so decided to skip that tonight and concentrate on pubs I hadn't been to before. We started off with the Globe, which, whilst not quite on the star player list, was certainly a very decent little drinking hole. The woman behind the bar referred to me as "love" when taking my order - something of a rarity in London - and a facet which immediately scored it extra points.

Next off we tried out the well known Market Porter, which I believe to be something of an institution, and was very lively indeed. The crowds were spilling out all over the streets, which was kind of fun actually, but despite the huge amount of people there it didn't actually take that long to get served at the bar, which was good.

Feeling peckish, we took a quick break after that from the pub reviews, and popped into some restaurant on Stoney Street whose name I don't actually remember. We each had a veggie burger there - the burger itself was of the crappy mashed up veg variety, but the trimmings were all quite nice.

After dinner, we then looked at a couple more pubs - we poked our nose in at the Wheatsheaf and the Old Thameside Inn (which I think I'd been to before), both of which looked reasonable but nothing that out of the ordinary. We then finished up with the Anchor, which was a bit on the touristy side, but being able to enjoy a beer watching the late evening sky over the Thames was nice nonetheless.

Quite aside from the necessary research aspect, it was a really good night out, and I am reminded we really ought to get out of the flat in the evenings a bit more often, and take advantage of this vibrant and fun city we live in.



Comment 1
Ever heard of CAMRA? (with slight tongue in cheek) You missed the Beer Festival, however.

Posted by John's Mum at 2007/08/17 23:00:49.
Post a comment