Gourmet Oriental
Posted on 2007/08/13 22:18:49 (August 2007).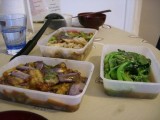 [Monday 13th August]
...is the name of the company which provided our dinner tonight. We get rather a lot of takeaway menus of various types delivered to our flat, but this one was considerably larger, and looked rather upmarket so stood out somewhat above the rest. I was also rather impressed with the more-than-usually careful labelling on the vegetarian dishes - they specifically noted they used a vegetarian alternative for oyster sauce, for example.

Ordering takeaway food (delivery food?) from a new place for the first time can be a worrisome process. Not that I am a particularly proficient complainer in restaurants either, but there is something particularly demoralising about opening up takeaway containers and realising you've just had fifteen quid taken off you for a load of tasteless gruel, and then having no-one around you can complain about it to.

Tonight was not one of those experiences though - the food was very good. What I particularly liked is that it wasn't all just the same old dishes you can get everywhere, there were a lot of things on the menu that were slightly different. So we started off with some hot and sour soup, then had three main dishes - red braised aubergine, stir fried choi sum, and ho fun with tofu and peppers in black bean sauce. All were done to a very good standard, and all had slightly different flavours to those I was used to. All in all very good. Perhaps a little bit on the pricey side - getting on for twenty quid, although saying that we did have way more food than we could eat in a single sitting.



Comment 1
the gourmet oriental richmond is my local and its the best around!!

Posted by simon at 2007/08/23 01:22:53.
Post a comment