Leeds Castle
Posted on 2007/06/11 23:23:57 (June 2007).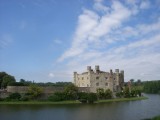 [Sunday 10th June]
Ever conscious of wasting our precious Saturdays and Sundays by just lolling around the flat all day, today we decided to go for a daytrip to see Leeds Castle. Apparently it is not in Leeds at all, and is in fact in Kent, about an hour by train from London. This makes a very achievable goal for a daytrip, even for people like us who are incapable of getting up early at the weekend.

We got the 12:18 train from Victoria, were at Bearsted station just before 1:30, and from there got a shuttle bus to the castle itself. The bus driver was a fairly cantankerous old git, which I did find somewhat irksome, but still, he did at least get us to our destination, and by 2 we were in the castle grounds.

It appears Leeds Castle's most effective defence from would-be invaders is charging them each 14 pounds to get in. However, with the exception of this little snipe, I am determined not to let my irritation at yet another example of rip-off Britain spoil my recollection of what was otherwise a very pleasant day out.

We started off with a good amble around the grounds. On the way in I was somewhat taken aback by the number of cars in the car park (and the shuttle bus from the station was pretty full too). Once inside though, the grounds are very spacious, and so the other tourists are not too much in the way. There are plenty of well kept lawns on which those fond of a good sprawl sur les herbes would, I imagine, be very content.

The castle is of course very photogenic, to which hopefully the pictures attest. I suspect it was one of those castles built largely for show - it had glass windows and the walls were relatively thin. It also didn't look that knackered, as most castles do. Perhaps this means it has been lovingly maintained, or perhaps, as postulated earlier, the entrance fee was somewhat prohibitive to any prospective besieging horde.

We spent about half an hour wandering round the interior of the castle, which I was generally less interested in than the exterior, although a couple of bits (as identified in the pictures) like the courtyard, and one of the staircases, did rather take my fancy.

After seeing the interior, we went over the other side of the moat to where the cafe was, and there had a reasonably nice ploughman's and afternoon tea. Once we were sufficiently fed we took a further wander to see some gardens and the maze. The maze was actually quite fun - one of those simple pleasures left to us by the Victorians. I would like to claim I had an efficient strategy for finding my way round, but effectively I just applied a brute force algorithm of trying every possible turning. Still, I think we got to the end in a respectably short space of time. Chie, who left me to find the route, seemed mildly worried the whole time we were in the maze, but then claimed to have enjoyed it afterwards.

After this we then basically wended our way back to the car park, to get the bus back to the station. As we arrived at the station well ahead of the next train to London, we fit in a quick pint at the pub on the village green down the road. I suspect this was once upon a time a charming little country pub, but someone had seen fit to turn it into a sort of swanky gastropub type place serving expensive continental lagers. Ho, hum.

We got back to London around 7, and then spent the rest of the evening relaxing back at the flat. Chie made penne arrabiata for dinner - for some reason it had ever occurred to me to try and make this pasta sauce ourselves, but it was actually ridiculously simple.

Anyway, despite the grumpy old man style whinging, it was actually a very pleasant day out.



Comment 1
Great trip!! 14 quid are quite expensive for a bunch of old walls, but it seems that the day was well worth them! Pictures are nice, the beams look impressive, a bit like Italian style villas in the past couple of centuries...

Posted by Lox at 2007/06/12 08:08:05.
Comment 2
Yes, it was the castle I had in mind previously!

Tell you what, to try and make the cost seem less painful, how about considering part of the fee a "photograph license"? I've been to a few places recently (mostly churches it has to be said) where you have to pay a fee to take any photos inside...

Not sure it's a trend I like, but it may help ease the"discomfort" (which I share, incidentally!)

Posted by Nigel at 2007/06/12 12:27:22.
Comment 3
Fourteen pounds does seem a lot for a look round the castle, John. I remember visiting Leeds Castle as a schoolboy back in the 70s, very nice day out. By comparison, my girlfriend Christina and I paid the equivalent of 55p each on the same day you were at Leeds Castle, for a look round the Museum of Macedonia in Skopje, and that was worth absolutely every penny (err... dinar). Isn't history a wonderful thing? :-)

Posted by Bryan at 2007/06/12 23:18:53.
Comment 4
About time you joined both the National Trust and English Heritage, me ol' son.

Posted by Mum at 2007/06/13 09:39:34.
Comment 5
I was just wondering what are the defence features on the castle??

Posted by N/A at 2008/01/14 16:39:31.
Post a comment