A Long Day Culminating in a Burger
Posted on 2007/03/31 18:57:53 (March 2007).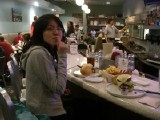 [Tuesday 27th March]
Surprisingly, jetlag wasn't up to it's usual tricks. As has often been discussed on this blog, usually the morning after a long flight I am guaranteed to wake up at 4AM and not be able to get back to sleep. This time however I managed to sleep right through until 5:30, when I probably could have slept a bit more had I put my mind to it, but I decided as I had a lot to do I should get up and go to work.

So I was in the office by just after 6 - and then didn't leave until almost seven in the evening. I did have a break for breakfast and lunch, but even once that is taken into account I put in a solid 12 hours today.

After leaving work I went to pick up Chie, and went out for dinner at a burger place I'd heard about. I felt like we ought to get the full American experience while we're were here.



Comment 1
Coo! I like the Counter Burger... At any rate the pile of onions on top (if indeed they are onions!) :)

Posted by Nigel at 2007/03/31 19:08:34.
Comment 2
Yes there was definitely a mention of onion strings / stringy onions / something like that as a topping on the menu, which I assumed to be the thing in the picture.

Posted by John at 2007/03/31 19:16:34.