Lazing on a Sunday Afternoon
Posted on 2007/03/13 08:33:15 (March 2007).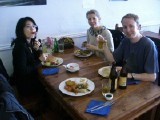 [Sunday 11th March]
We'd stayed the previous night at Rob and Kate's flat in Reading, and as we had no particular plans we hung around today for a bit. The four of us went for a very nice relaxed lunch at good old Cafe Iguana - I think their all-day breakfast was possibly even better than I remembered it. After that we went to a pub for a couple of lazy Sunday afternoon drinks, before eventually heading back to London towards the end of the afternoon.

The evening was pretty uneventful really - we rather lazily bought ready meal type food at Marks and Spencers on the way back (I have to admit to being mildly addicted to their potato gratin), and other than that didn't do very much really.



Comment 1
Nice car Rob!! (Toyota!)

Posted by Nigel at 2007/03/13 10:52:13.
Comment 2
Nice pics, I thought that Iguana was just a place where we used to go drinking... Now they make Sunday Breakfast too?

Posted by Lox at 2007/03/13 12:03:59.
Comment 3
Lox: yea the upstairs has always been a bar, and the downstairs has always been a vegetarian cafe.

Posted by John at 2007/03/13 13:05:08.
Comment 4
Ohhhhhhhh.... I never knew! :( next time I go to Reading must try it out! When is the second wedding party going to take place?

Posted by Lox at 2007/03/13 14:46:39.
Comment 5
Not sure yet, but it won't be in Reading!

Posted by John at 2007/03/13 15:28:58.
Comment 6
Why? It's a nice place, it's where you met Chie, it's where the Iguana is!

Posted by Lox at 2007/03/13 17:32:19.