Everyone and His Dog is in California
Posted on 2007/01/30 06:45:50 (January 2007).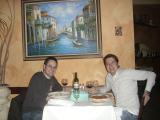 [Thursday 25th January]
Another unremarkable day at work was contrasted with a very nice evening out. Yes, the title may amount to somewhat of an exageration, but it is pretty cool that not just one but two of my friends had independently been in California at the same time I was.

Simon was just in California for a week - and in fact not just in California, but was even working in the same town as me. So tonight was our first opportunity to meet up and go for dinner plus a few beers. The venues were nothing much to write home about, but for the whole evening I couldn't get over how great it was that me and an old friend were sitting and having a couple of beers together on what for us is the other side of the world, having got there for completely unrelated reasons.



Comment 1
Surprisingly olde-worlde looking place for Calif! :)

Posted by Nigel at 2007/01/30 07:07:42.
Comment 2
Actually there are three different places shown in these photos (if I had a way of easily writing comments for each one that would have been immediately apparent!).

The first is an Italian restaurant, the second is an American style "pub", and the third is in an "Irish" "pub".

Posted by John at 2007/01/30 07:33:51.