New Company Remorse
Posted on 2007/01/25 06:30:25 (January 2007).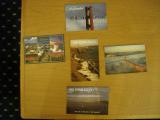 [Wednesday 24th January]
I suffered a particular motivational crisis this morning, and found it very difficult to summon the enthusiasm to get out of bed. Tom explained (via the message board) that what I'm in fact suffering is "New Company Remorse" - I suppose a bit like buyer's remorse. It is apparently natural at this point to realise the company doesn't quite live up to the hype they gave you when you were being recruited, and to start to wonder if maybe you made a mistake, perhaps the last place wasn't really all that bad, and you should have given it a bit longer... Well it is still very early days yet - just half way into week three. People generally seem to like working here, so I'm sure things will improve once I start to get a bit settled.

Lunch was a slight improvement - I've had a lot of rather disappointing meals (the food was one of the main things that was hyped) but today I tried out the Asian themed cafe and managed to find some very passable vegetarian sushi. I ate this outside (yes, in California even January is a candidate for al fresco meals) whilst browsing the web on my Mac using the super pervasive wireless networking that seems to be available everywhere around the office. Well, I suppose the new job isn't all that bad...

The evening was occupied with crossing off a few things on my TODO list of odd little jobs. I filled the car up with petrol (doesn't sound like much of an achievement, but I was quite proud of myself), did some washing, tidies up my room a little bit, wrote out postcards, and got my blog up to date. Didn't bother going out for dinner, opting instead to bravely reheat the leftover curry from the previous evening.



Comment 1
I think that it's quite normal, after all these companies might have started with "cool geeks"but eventually got on the stock market and are now managed by the same type of people that were at M$... You have to take the good bits (I am sure that there are plenty) and get on with it. Employee work is seldom 100%satisfactory, mostly because you don't have the freedom of doing everything that you want, but that's part of the game I guess... I mean you are in Frisco! I have never been there. Sometimes when I am in Tokyo I force myself to remember that I am lucky in a way, I can escape from the routine, other people are not so lucky. I am sure that you'll be fine!

Posted by Lox at 2007/01/25 08:33:18.
Comment 2
Actually where our office is isn't right in San Francisco - I think I would be having a much more fun time here if it was! It's about a 45 minute drive away - which means in the evenings I am confined to this rather dull little suburbian town. Still, might go back to SF this weekend, that definitely was fun last Saturday.

Posted by John at 2007/01/25 17:28:01.
Comment 3
John, imagine yourself working in an office in Slough (as in "The Office" with David Brent for a boss, don't know if you have seen the series?). Now look at where you are and what you are doing...! :-)

I often complain about things in my work - I work for myself at home and make a comfortable living - and when my girlfriend points out to me that I don't have to go out in the rain or snow (yes, it does that in Greece in winter months), it brings it home to me that I am lucky. I wish I could get to spend time in SF like you. Sob....

Enjoy your stay there :-)



Posted by Bryan at 2007/01/26 23:06:12.
Comment 4
I am agree

Posted by Sara at 2008/12/06 17:11:53.