Italian American
Posted on 2007/01/25 05:51:21 (January 2007).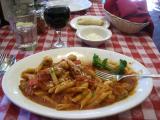 [Sunday 21st January]
The title only has a vague connection with today's events - just based on the restaurant I went to for lunch. I found myself craving a roast meal actually, and did spend a short time in the morning in a vain search for any nearby British pubs etc that might offer this sort of fare. Clearly that was not to be though, so a big hearty Italian meal came in second place.

I'm not sure I would agree with one reviewer for this restaurant who called it authentic Italian. This to me means the sort of Italian food you actually get in Italy - perhaps the term authentic is interpreted differently here though! Still, culinary elitism aside it was a very satisfying meal. I had tomato and mushroom penne, followed by a black olive and artichoke pizza. The pizza was definitely American style to me - a big thick crust - but even Lorenzo has said he quite likes these on occasion, as long as they are considered as a separate entity to real Italian pizza. Oh and I also had a couple of glasses of Chianti (Nozzole, Nozzoli, something like that) which put me in a very jolly temperament for the rest of the afternoon.

I had grand plans to do some work on the computer for the rest of the day - perhaps make a crack at a Photo Studio replacement to run on the Mac. Instead though I found myself somewhat lethargic (possibly the wine and all those carbohydrates) and just slobbed in front of the television instead. I did just about muster enough energy to make a concerted effort at getting my pictures from San Francisco on the web - a particular feat in the absence of Photo Studio!



Comment 1
Yup, american pizza is not that bad to be honest... As for Italian food in America, there are good places in New York, but you are also bound to find shitty places where you can have Spaghetti with meatballs (NEVER EVER Existed in Italy!!)

Posted by Lox at 2007/01/25 08:26:14.
Comment 2
Yes, spaghetti with meatballs was on the menu at this place...

Posted by John at 2007/01/25 17:23:43.