San Francisco
Posted on 2007/01/22 06:52:29 (January 2007).
[Saturday 20th January]
By an amazing coincidence it turned out that our friend Junchan was also going to be in Northern California for a few days while I was there. Today we both had the day completely free, so it seemed only right that we should make use of the opportunity and meet up.

I'd originally considered driving over to Napa, where Junchan was staying, but in the end we decided on a change of plan, and instead we arranged to go to San Francisco for the day. The complications of not having mobile phones and not really knowing good places to meet in the centre meant that we actually met up in the airport (somewhere convenient that we both knew how to get to), and we made a bright and early start - we were both there before 10.



From the airport we took the Bart (San Francisco's tube/metro/subway/chikatetsu/whatever you choose to call it), which got us right into the city centre. It turns out Junchan had been to San Francisco before (a familiar experience for me when travelling anywhere with a Japanese person!) Still, I obviously felt compelled to see the famous sights, and in fact I could only really think of one - the Golden Gate Bridge. So we started off the day with a long meandering stroll along by the seafront, by way of the Bay Bridge, a big group of protestors, the giant sealions, and then some more protestors.





After passing through a very pleasant park whose name escapes me, we eventually came to a beach with a great view of the famous bridge, and spent a very nice time there sitting, chatting about life, and taking in the scenery.

Eventually of course our stomachs began to rumble, so we left the beach and the bridge behind to head back towards the centre and find some lunch. Oh, and we passed yet more protestors on the way.



We decided to have Mexican for lunch - partly because I think this is generally the best thing to eat when in the US, and partly because Junchan hadn't really ever had Mexican food before. There isn't really a lot of Mexican food in Japan it seems. As a bit of an aside, I had actually been to a Mexican restaurant with Junchan before. About four or five years ago we went to my favourite place in London, but owing to another friend of ours getting ill, we actually had to leave before we had a chance to eat anything! Anyway, I digress. Today's Mexican food was very nice - burritos and lemonade.



After lunch we had a bit of excitement in store. Apparently although Junchan had been to San Francisco before, she hadn't taken a ride on the famous trams, and so this was something we were both very keen to do. This was really cool - the tram was packed, and initially I assumed there wasn't room, but the driver told us to go round the other side, stand on the little step, and hang on (the last part being of some importance). The little footplate we stood on was barely six inches wide, and other than that the only thing we had to stop us from falling off was a pole we had to hang onto for dear life. It was a surprising departure from the usual litigous and safety concious America - this was really quite dangerous, and therefore rather a lot of fun. As we passed trams going the other way we had to lean in so as not to hit the passengers on the other tram. The hills are just as steep as they look on the telly, and those little trams really zip about. I'm not really into roller coaster rides or anything like that, but this was really, really fun.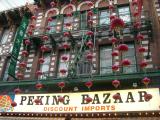 We were deposited somewhere near Union Square, and from there we went on another long meandering stroll, through Chinatown and out the other side to the Italian quarter. At the far end of that we found a pleasant little park in front of a church to have another nice sit down and watch the world go by.


I found myself getting a bit sleepy around that point (all the excitement was getting to me!) so we popped into one of the Italian cafes for a coffee, and then got one of the less glamorous trams (more of a bus really) back up the hill.



For dinner we went back to Chinatown, and after a bit of menu browsing we settled on a place which I think was called Emperor's Garden (?). Apparently George Bush Senior had once visited (not that this in itself particularly sold it to us). Actually another shop we'd popped into in Chinatown earlier in the day had been visited by Bill Clinton, so a theme of sorts was emmerging.

To my surprise the restaurant was full of British people - at least four other tables were emanating accents from ole Blighty. The food was pretty good - we had hot and sour soup, and followed it with a selection of vegetable dishes (tofu in a hot sauce, assorted mushrooms, and seasonal greens).

Once we'd finished dinner we realised our nice day out was drawing to a close - the last coach back to Napa left at 10:30, so we had to get back on the Bart and head back to the airport. We said our goodbyes at the airport, then Junchan got on her coach, and I drove back to my hotel.

It was a really nice day out - a real highlight of a business trip which, so far at least, has otherwise been pretty bland.

On a technical note - you may notice that I've uploaded pictures, but there aren't any comments or anything. As the only computer I've got with me here in the US is my Mac laptop, it means I can't run good old Photo Studio to do all the usual jobs I need to do before uploading pictures to the web. Possibly at some point I'll find (or write) an alternative, and be able to get back to the usual commented pictures you're all used to!

Comment 1
Nice pics!!! Thanks! :)

Posted by Nigel at 2007/01/22 08:56:06.
Comment 2
Thanks Nigel - but I feel really handicapped without Photo Studio. Sure there are lots of other programs which do HTML gallery creation, but none of them in quite the way I want to do it... Quite frustrating to have nice pictures but not be able to present them in the way I would like!

Posted by John at 2007/01/22 18:31:08.
Comment 3
Yeah, sorry about the brevity of that last message. I was sneaking a quick one in before my day of work actually began!

PhotoStudio really is a rollockingly-good bit of software, using the comment field in JPGs to store and propagate the text. I haven't found anything for the Mac yet which does the job so well (and no, I'm not "just saying that"!!! I'm probably the longest-time Mac user/owner here and have scoured the sites!!;)

As we discovered the other day iWeb and iPhoto have some pretty neat tricks but... For now, perhaps best to run PhotoStudio in a VM...?

Posted by Nigel at 2007/01/22 19:35:32.
Comment 4
Hi John, good to see you on your travels again...!

I downloaded Photo Studio today and discovered it to be just what I have been looking for for ages. I gave up doing my own blog last summer because of all the hassle of resampling/resizing pictures, but Photo Studio makes it all so quick and simple... Anyway, excellent piece of software!!! One question (which I perhaps should put to you in an email), though, and that is: how can I make thumbnail conversions which re-number the thumbnail as 1.jpg, 2.jpg etc instead of a variation of the original filename? I tried changing the %s option in the Thumbnails option window for other letters (eg %n) in the hope that one of the letters of the alphabet would provide a number, but no luck... Could you possibly help me out on this? Many thanks...!!

Posted by Bryan Hollamby at 2007/01/22 20:42:38.
Comment 5
Just discovered how to do what I was asking about in my previous post... I am really impressed with Photo Studio!!!

Posted by Bryan Hollamby at 2007/01/22 21:24:19.
Comment 6
Thanks for all the kind words chaps - careful though, it'll go to my head!

...I don't think Photo Studio is by any means the best piece of software for doing this sort of thing, but the important feature is it does exactly what I want it to do in exactly the way I want it to do it. So I guess if it also satisfies your requirements we must be like minded individuals!

Posted by John at 2007/01/22 21:30:56.
Comment 7
Well, from what I have seen so far it is going to save me a huge amount of time and that means I can get back to doing a photoblog for my family to see back in the UK, and I am well-chuffed about that... Credit where credit is due, John! Good on you!

Posted by Bryan at 2007/01/22 22:52:22.
Comment 8
Nigel is right you could run it off a VM in paralleles (which reminds me that I MUST download it soon before I go to Japan on Friday!!)

Posted by Lox at 2007/01/22 23:39:25.
Comment 9
That sounds like a tremendous pain in the arse to setup, and wouldn't it require a Windows license...? No, I think the only solution is to try and write some kind of Mac version. Unfortunately I seem to have lost all enthusiasm for writing software recently (kind of worrying considering my job and everything!).

Posted by John at 2007/01/23 04:30:11.
Comment 10
Well can't you do a "porting" to the Mac system? It cannot be THAT different.... Mind you I have absolutely no clue of what it is used to write a Mac program....

Posted by Lox at 2007/01/23 07:20:33.
Comment 11
Not sure Chie would appreciate those (intimate) pics of you and Junchan. Those smiles, there, are more than merely friendly, I tell you! Naughty naughty boy...

Posted by Sheri at 2007/01/23 08:11:20.
Comment 12
Sheri, you are a trouble causer!

Posted by John at 2007/01/23 17:10:10.
Comment 13
I expect no less from myself...!

Posted by Sheri at 2007/01/23 22:16:08.