Leaving the Dordogne
Posted on 2007/01/09 00:52:15 (January 2007).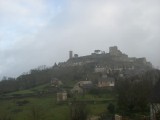 [Sunday 7th January]
So today I was getting the train back to the UK, but Mum did have one last gem of a place to show me en route to the station - a medieval hilltop village called Turenne, which was really quite spectacular, even in the somewhat misty conditions in which we saw it. As with all the rest of these places we'd visited this week, it is a real testament to the local people that they've done such an excellent job of preserving these places - there can't be many areas on the planet so rich in so many delightful old buildings. A great send off.

So after a farewell drink with Mum and Keith in a café near the station, I got on the train from Brive-la-Gaillarde around midday. It was about a four hour run from there to Paris, and it was one of those trains with the seats arranged into those old fashioned compartments, which meant I was rather cozily situated with nine other passengers. Somehow the French seem less offensive at close quarters than the English sometimes do, and even the two restless and noisy children had a certain charm about them.

Anyway, I changed at Paris and got on the Eurostar, and then finally some time after 8 I was in London.

My new company had arranged a temporary apartment for me near Blackfriars, much appreciated after a long journey (although I did initially have considerably difficulty actually getting into the place).

The flat turned out to be rather fancy - two bedrooms (one en suite) and a massive lounge and dining room (with six chairs!). A bit over the top for little old me really!



Comment 1
The places that you have been to in France have something mystical, all these pictures are quite foggy, it gives me the impression that you have popped down to the middle ages to take them! :)

Posted by Lox at 2007/01/09 07:14:48.
Comment 2
Yes, I agree! Splendid pictures! What a charming place. And the new Casio seems to be a very worthy camera.

Posted by Nigel at 2007/01/09 08:54:46.
Comment 3
Beautiful pics!

Posted by Paul at 2007/01/13 12:21:52.