Beaulieu
Posted on 2007/01/09 00:43:51 (January 2007).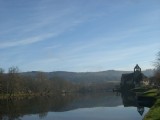 [Saturday 6th January]
The main event of the day was a trip out in the morning to a town called Beaulieu, yet another of the seemingly endless stream of charming towns and villages in the Dordogne. Not much else to say really - go and look at the pictures if you want to see what it was like!



Comment 1
I love that picture too! Very good reportage!

Posted by Lox at 2007/01/09 07:11:29.