Christmas Eve
Posted on 2006/12/26 18:34:37 (December 2006).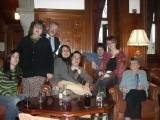 [Sunday 24th December]
Today is also Alex's birthday, so we went out for lunch to a nice little country house hotel called Bron Eifion. Very nice too.

After lunch we went for a walk on the beach, although the weather was a little bit unpleasant so it remained a fairly short walk.

Dad was out in the evening so I assumed the role of chef, and knocked up a quick lasagne for all "the young folk". It's been quite a while since I've been able to make one of these properly, and I have to say I rather enjoyed it.



Comment 1
Ah yes, that looks a bleak beach scene!! Mind you we *are* talking North Wales in December so only to be expected. Mind you the visibility wasn't much better here!

Posted by Nigel at 2006/12/26 22:44:48.