London to Abergavenny
Posted on 2006/12/23 10:09:32 (December 2006).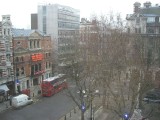 [Wednesday 20th December]
Jetlag seems to have really got its teeth in this time - for the second time in a row I woke up at 4AM, but at least this time I did manage to get back to sleep, albeit after lying awake for a couple of hours.

We checked out of our hotel at 11 (having been rudely awoken by the cleaning lady at 9). We'd originally planned to make the most of the morning doing some more shopping etc before heading on to Wales in the afternoon, but in the end this got refined to basically having lunch before setting off.

We decided to go and visit Square Pie at Spitalfields Market for lunch. Whilst the pie was more or less as nice as I'd remembered it (I went for my old favourite of Wild Mushroom and Asparagus) we were struck again with another manifestation of reverse culture shock - the UK (I suppose London in particular) is just so expensive. I paid the princely sum of £6.50 for pie, mash and peas, served up in a cardboard box, and eaten outside with a plastic knife and fork. As Chie put it, in Japan people woudln't even consider paying that much for that kind of lunch.

Still, I don't want to put the nice people at Square Pie down, they do make very nice pies.

From there we headed over to Chancery Lane. We did a bit of browsing for jewelry first at Hatton Gardens, but in the end though nothing really caught Chie's eye, and so we gave up, and instead just went for a couple of nice malts instead. It was nice to be back in the relaxing atmosphere of the Whisky Society again. I just had two drams this time - an interesting Glen Scotia and a monstrous Laphroaig.

After our early afternoon buck-me-up we went on to Paddington and got tickets for the train to South Wales. Again a bit of the predictable malaise about being back in the UK set in here - I was reminded again of the depressing state of our public transport system.

Still, we got to Newport, and the train was actually more or less on time. Robin met us at the station and we drove from there through thick fog to Abergavenny where Vera was eagerly awaiting our arrival.

It's hard to put into words just how nice it is being at Vera and Robin's house in Abergavenny - and it's not just me, Chie loves being there too. We had a really nice dinner (vegetable Moussaka) and then just sat and relaxed for the remainder of the evening, feeling quite blissful.

Again, I realise now it was probably a mistake to spend any time in London so soon after returning to the UK - we should have just come here first to "acclimatise" before facing the big wide world.



Comment 1
I can understand the culture-shock. It's much the same when I go - and I'm only going from the west-midlands! Yes, though it's probably a bit cliche, it's true about "rip-off Britain" especially in the Smoke.

Posted by Nigel at 2006/12/23 11:00:35.
Comment 2
John,

Six-fifty is about ten euros, and in "once-oh-so-cheap" Greece you'd now be lucky to get anything decent to eat for 10 euros... Tis the way of the times :-((

Posted by Bryan at 2006/12/23 13:33:31.
Comment 3
Having done a couple of contracts recently up the big Smoke (Stoke Newington and Notting Hill)... I was actually amazed at the reasonable prices for a breakfast, lunch or bacon butty.. Thank heavens for "Zorba the Greek" and his many cousins for their fine dining establishments.. Excusing the black hairs in my omelette and the "used complete with teeth marks" plastic straws that our milkshakes were served with... What was the number of the local health inspector again please?

Posted by Jerry at 2006/12/26 12:44:19.