Leaving Seattle
Posted on 2006/11/13 22:54:47 (November 2006).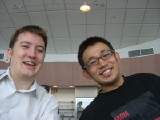 [Saturday 11th November]
Slept fairly late following the previous evening's outing, and then rather hurriedly got all my things together and checked out of the hotel. Luckily Shig was on the same flight, so I got a lift with him to the airport.

So it's goodbye to Seattle then. My next job will also require trips to the US now and again, but to CA rather than WA. So there's a strong chance I might not ever visit Seattle again. I've made four trips there over the last year or so, totalling up to about six or seven weeks.

Thankfully this may also be my last time to fly NorthWorst - and with this flight they sent me off on a particularly low note. The standard of service was terrible (clumsy, unfriendly, and generally very amateurish - not what you expect in business class), the food was utter crap as always, the movie selection was very uninspiring and it was also a pretty bumpy and unpleasant flight (although I'm not sure if it is fair to blame the airline for that last part).

Anyway somehow or other I managed to pass the time on the flight - a combination of my iPod and talking to the guy sitting next to me who worked in the seafood business (albeit somewhat difficult to find common ground between an executive from a fishing company and a vegetarian software engineer). Helpfully he told me how crap the food was in England, but I restrained myself from sinking to his level and giving him a detailed account of how crap the food had been in the US over the last week.

The highlight of the flight came in the last few minutes, as we came in to land at Narita the sun was setting, the sky was very clear, and we could see Mt. Fuji silhouetted against a red and gold sky. Unfortunately I didn't have my camera to hand, but I found the sight to be utterly mesmerizing. In an instant I understood why people in Japan are so fanatical about Fuji - the word awesome has been horribly over used in recent years, but this was a situation in which it was absolutely appropriate. I was literally filled with awe.

In Japanese there is a word "nakanaori" which means to make up after a falling out. Without wanting to be overly sentimental about the whole thing, I felt like Japan was offering an olive branch with this glorious sight. It was as if the country itself was saying "nakanoari shio?" - "let's make up". I'd have only just over a month left in Japan after this point, and I felt like Japan was asking for us not to part on bad terms, to remember that amongst all the trials and tribulations of living abroad, this was still a country filled with fabulous and beautiful things.



Comment 1
Great photos, John! Interesting to see your (ex) colleagues too.

Also rather comforting to see a bottle of Heinz Tomato Ketchup on one of the tables!! :))

Posted by Nigel at 2006/11/14 07:20:09.
Comment 2
Hmmm... not sure about great Nigel, but I can accept interesting maybe...

Hey - did anyone notice this is entry 999?

Next up the big 1000!

Posted by John at 2006/11/14 23:59:49.
Comment 3
Is not written anywhere though :( (entry 999)

Posted by Lox at 2006/11/15 10:31:24.
Comment 4
Happy to say I have read every single one of them, whatever the number

Posted by Mum at 2006/11/15 13:43:35.
Comment 5
The world's tallest man?

Posted by dsp at 2006/11/15 14:34:07.
Comment 6
Yes he is rather on the lofty side.

Posted by John at 2006/11/15 16:28:41.