Saturday Jazz
Posted on 2006/11/02 13:07:21 (November 2006).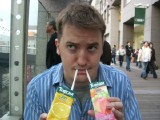 [Saturday 28th October]
Recently I've not been able to sleep much past 9AM, and as Chie's friend had stayed the previous night in our apartment (thus occupying the lounge where my PC etc reside), when I woke up, given that the girls were still slumbering, I decided I ought to go into the office for a bit. So I spent a fairly productive morning there. Around lunchtime I headed back into the centre of Tokyo (Shinjuku to be precise) and there met up with Chie and her friend for a spot of lunch.

En route I popped into the Bic Camera in Shinjuku and bought a recharger cable for my iPod.

After lunch Chie and I spent the remainder of the afternoon shopping in Shinjuku. One of the highlights of today was that Chie had her bandages taken off following her little accident one week previous. She just has a little plaster on her chin now, and I am pleased to report it appears there will be no lasting damage.

In the evening I went over to Yokohama, to where TK lives, for a bit of a musical evening. TK (who aside from being an excellent broadcast/software engineer is an excellent jazz pianist) has a piano in his house and we took advantage of that to practice a song I am considering singing at mine and Chie's wedding in December. I am, of course, not exactly well known for my singing prowess, so part of the reason for practising was to get a seond opinion as to whether or not it was a good idea to attempt such a feat in the first place. The jury appears to be still out on that one.

Me and TK also visited a kind of small jazz club place near where he lives whice has nightly jazz jam sessions. It was really cool to see the reaction when TK arrived - he is obviously a bit of a local celebrity. I sat for a couple of very pleasant hours listening to his excellent and slightly unruly (as a result of the beer) piano playing - it was tremendous.



Comment 1
Now that sounds a really great evening! I remember jazz evenings in "The Turks Head", in Lincoln. The upstairs room. So laid back but brilliant playing, which got more "creative" the more the musicians played. The pub has probably changed to a Tapas Bar or something nowadays... Ah, fond memories!

Posted by Nigel at 2006/11/02 13:31:01.
Post a comment