Slump
Posted on 2006/10/29 06:20:29 (October 2006).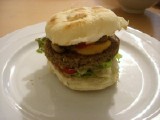 [Wednesday 25th October]
After the previous day's exertions I found myself a bit lacking in energy and a bit of a slump ensued.
There is still plenty to do on my project at work, but I found that following the big breakthrough yesterday it was hard to keep momentum, and so today was a bit unproductive.

Still, you can't expect to work miracles 365 days a year!

In the evening, Chie's sister came to visit, and we had vegetarian burgers for dinner.



Comment 1
Oh... Now I'm hungry... What have we got....?

Posted by Nigel at 2006/10/29 16:29:28.