Rest
Posted on 2006/10/25 15:55:09 (October 2006).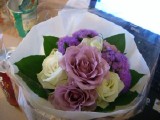 [Saturday 21st October]
Chie had a bit of an accident on her way home the previous evening - don't go getting worried or anything, it wasn't anything too serious... Basically she fell whilst getting out of a train, and picked up a few cuts and bruises in the process. Anyway though, this meant today we just spent the day staying in and resting as poor old Chie was feeling a bit sore. I too was a bit knackered after the week's excesses so wasn't adversed to just lolling around the flat all day. That's it really.



Comment 1
I do hope Chi'e is feeling better now.

Posted by Mum at 2006/10/26 09:15:13.
Comment 2
Did you sue JR for this accident? Or was it a complete botch on Chie'side?

Posted by Lox at 2006/10/26 18:20:40.