Nabe
Posted on 2006/10/04 14:41:07 (October 2006).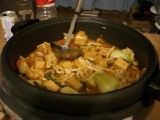 [Wednesday 4th October]
I made kimchi nabe for dinner, which came out rather well (with the usual "although I say so myself" caveat, of course). Although I did the initial cooking on the hob as usual, I finished it off with the hot plate thing which we put in the dining table - it really helps the overall effect of this dish being able to eat it like this.



Comment 1
Looks great, care to post the recipe by any chance....

Posted by Lox at 2006/10/06 15:03:29.