Respect the Aged Day
Posted on 2006/09/22 04:43:40 (September 2006).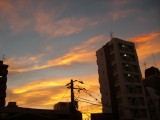 [Monday 18th September]
Today was a national holiday in Japan - "Respect the Aged Day". Chie and I didn't really do anything specifically along this theme (although we're planning to visit Chie's grandparents the following weekend), but instead spent most of the day just slobbing around and not doing all that much.

We ate a late lunch of leftover red wine stew and cous cous - a combination which worked surprisingly well. I think we then popped out to do a bit of shopping after that, just to by stuff for dinner mainly. When we got back there was a rather nice sunset to be seen from the balcony, so I took a few snaps of it with my new camera. Like all digital cameras I've seen, when taking shots of sunsets the colours you get are quite different to the actual reality, but still nice in their own way. Strangely the entirely automatic default settings seemed to do a far better job than the purpose made "sunset mode".

Chie made gyoza for dinner, which were very nice as always.

Not much else to report really - just a very lazy day off work!



Comment 1
Nice sunset. Is this camera number four then?

Posted by Mum at 2006/09/22 18:13:25.