Leon, Shinjuku and Takaosan
Posted on 2006/09/03 08:08:44 (September 2006).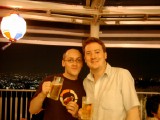 [Saturday 2nd September]
Chie and I spent most of the day with just Leon - the other two were off doing their own things.

Right at the end of the previous evening (technically this morning) Leon and I had planned to meet up in Shinjuku station at 2PM. This was a surprisingly tall order, perhaps because I hadn't got to bed until 7AM.

Naturally I didn't feel completely at my best, but I bravely set out just before 2, and following the standard confusion about which bit of Shinjuku station is which (it is probably the most difficult to navigate terrain in the world), we eventually met up around 2:30. The plan was to go to Takaosan (the mountain just outside of Tokyo), but it seemed prudent to get something to eat first, so we popped into Al Dente - the spaghetti place I've been to with Lorenzo a few times before.

So it was probably some time around 4 by the time we got on the train from Shinjuku to Takaosanguchi, and we were at the top of the cable car run by about 6. Things were looking a bit bleak as regards the main event - Takaosan Beer Garden - apparently there were 600 people waiting to get in (although I'm not sure where they all were, we could only see about 100 people milling around). Anyway, they had a ticket system, so luckily we didn't have to just stand in a queue. We took advantage of the time to go for a walk up to the top of the mountain - made somewhat more difficult than usual by the fact it was getting dark.

We got back down to the beer garden around 7, and in the end it wasn't too bad - we waited about 25 minutes before they called out our numbers. Even better than that we were given free beer while we were waiting. There was a temptation to just drink a load of free beer and not bother with the actual garden itself, but in the end we thought as we'd made the effort we ought to go in.

So we spent a couple of very pleasant hours up on the terrace in the beer garden, with the twinkling lights of the sprawl of Tokyo laid out below us. Leon regaled us with tales of past shenanigans, and I was reminded just how funny (and rude!) he is - I barely stopped laughing the whole time.

We left when the place closed - 9:30 - and the cable car ride on the way back was surprisingly fun, as our fellow passengers all seemed to be in a somewhat jubilant mood.

The train to get back to the centre of Tokyo was a bit of a drag, and it was after 11 by the time we arrived in Shinjuku. Gav and Stu were holed up in the Dubliners - an Irish pub - I felt a bit embarassed to have recommended this to them in the first place, but I just didn't know anywhere else in that area you could pop into for a drink like that to kill time.

Anyway, we spent a while there before deciding to try and go somewhere else, which was ultimately not all that successful - Shinjuku is apparently a big centre for nights out in Japan, but at around 1AM there seemed to be nothing open that really grabbed our interest. So the boys all headed over to Shinuya instead, but me and Chie were both a bit tired, so decided to just call it a night there.

Post a comment