Sunday in Nagano
Posted on 2006/07/31 12:30:10 (July 2006).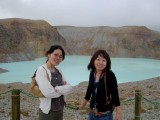 [Sunday 30th July]
Another day in and around Nagano, before heading off back to Tokyo in the evening.

We started out the day at Junchan's family home, spending a very relaxing morning generally lolling around. Junchan's Dad seems to be a fan of just about anything with a motor - he's got a few snow mobiles, and a number of other motorised toys, including a sort of modified golf cart thing that he let me and Chie have a go on. That was a lot of fun.

We said our goodbyes towards the end of the morning, and headed out with Junchan and her sister to go to a little French restaurant in a nearby town called Iiyama (yes, the same as the company that used to make monitors). The restaurant was ran by Junchan's sister's friend apparently, and the food was all very well made - particularly the desserts.

After that, Chie, Junchan and I went for another driving tour around the mountains, stopping off at a number of places of interest along the way.

To kick off with there was another waterfall, and then a very brief stop to see a steam outlet for a hot spring (very smelly!).

Next after that was a slightly bizarre trip up the side of a mountain - the first part of which was on a kind of giant outdoor escalator, followed by a slightly more conventional chair lift. There wasn't actually a great deal to see at the top - with the exception of Japan's highest bakery - so we basically just went back down again after a few minutes. Still, the ride was fun.

Our final venue of the afternoon was a volcano - Mt. Shirane. Actually this was just over the border, so in Gunma prefecture rather than Nagano (on route 292, apparently the highest national road in Japan). Mt. Shirane was kind of weird - at the top there was just an eerily still milky blue lake. The landscape looked sort of martian.

Sadly all good things come to an end, and so after the volcano we headed back to Nagano city, from where Chie and I said goodbye to Junchan, and climbed on the Shinkansen which would take us back to Tokyo.

All in all a very nice weekend away!

Comment 1
A lovely tour of the country there John - thanks! I'm not sure about the milky-blue lake though... Looks distinctly odd, as you point out.., :)

Posted by Nigel at 2006/07/31 07:36:03.
Comment 2
The lake like that reminds me strongly of the BEPPU JIKOKU (Hell's of Beppu) in Kyushyu. I believe they are lakes of extremely hot water, and the chemicals in the rocks give them a strange colour. In Beppu you get even RED lakes... Extremely nice trip John, best compliments!

Posted by Lox at 2006/07/31 08:03:14.
Post a comment