Saturday in Nagano
Posted on 2006/07/31 12:28:32 (July 2006).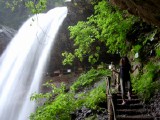 [Saturday 29th July]
Having arrived in Nagano the previous evening, we now had a whole day to explore.

After breakfast, Chie and I checked out of our hotel, and meandered over towards Zenkoji - Nagano's famous temple. Chie had arranged for us to have shojin ryori for lunch at one of the shukuboh (temple lodgings) in the grounds of Zenkoji. Shojin ryori, for those interested, is the traditional cuisine of Buddhist monks, which is intended to be 100% vegetarian (although often these days isn't completely). Anyway, thrown in as part of the deal, one of the guys running the shukuboh (possibly a monk of sorts) also gave us a guided tour of the temple before lunch. Zenkoji is possibly most famous within Japan for the "key to paradise". I use the word "famous" here carefully, as it seems to be completely over used for regional things within Japan, but at any rate, Watanabe-san mentioned this when I told him I was going to Nagano the other day. So underneath the main temple building is a kind of tunnel which is completely pitch black. About half way along is a some kind of metallic object stuck to the wall - apparently a key - and touching this will ensure you eternal salvation etc etc. In fact the monk also told us that it was indeed impossible to reach paradise if you didn't visit Zenkoji at least once. I couldn't help but wonder if this meant paradise had a somewhat disproportionate occupation of people from the area around Nagano, and not so many people from places further afield like Uzbekistan, or perhaps Croydon.

After our guided tour of the temple, and a convenient bit of after life insurance, we met up with Chie's friend Junchan at the shukuboh, and there had our shojin ryori, which was all very nice.

From there, we got in Junchan's car, and she drove us to a town called Obose. Here there was a kind of workshop place where you could try your hand at glass engraving. I have to admit to being a little dubious at this at first - it sounded like a very girly way to spend part of an afternoon - but after a while I started to quite enjoy it. The process seemed to involve covering all of the bits of the glass that you didn't want to put a pattern on with tape, including an area with a cut-out stencil design. Then we used a kind of sand blasting machine to burn on the pattern. I'm sure there are proper names for all these parts of the process - but if they were explained to us, then it was only in Japanese.

After the glass engraving, we stopped of for a quick spot of shopping which I think was also in Obose. I bought a very stylish bottle of sake from a sake shop which is apparently managed by an English woman (although we didn't actually meet her).

Junchan then took us for a bit of a drive up into the mountains to see a couple of waterfalls. The first was all very nice, the sort that you see from a distance, across from the other side of a valley.

The second waterfall on the other hand was a somewhat different experience and it really took my breath away. I'd often seen in films etc those waterfalls that have a hollowed out cave, allowing you to walk right behind them. I don't think I'd ever actually been to one in real life though, until now. It was absolutely amazing, and I'm not sure the pictures really do it justice. I think I read somewhere that Shinto, the original religion of the Japanese, derives from a simple sense of awe at nature - and I think I experienced this first hand today. Honestly, without wanting to overdo it, standing by this waterfall was a tremendously primordial experience. Hard to put into words, but you'll just have to trust me it was amazing.

After this we headed back towards civilisation to get something for dinner. We went to a sort of organic all-you-can-eat buffet restaurant. As Nagano is a big fruit and vegetable growing area, purely by coincidence there were quite a lot of unintentionally vegetarian dishes available. We also met up with Junchan's boyfriend here. I have to admit it was a bit difficult to make conversation, so I don't really feel like a got to know him very much in this time. Oh and to help matters I managed to cover my white shirt with tomato sauce. I have a distinct feeling Junchan's other half was left thinking I am a complete idiot. Ho, hum.

After dinner we went back to Junchan's family home, up in the mountains, where Junchan had very kindly offered us a bed for the night. We met most of Junchan's family - she has two sisters and a brother, although one of the sisters was away. Her parents were very nice and welcoming, her mother did the typical Japanese thing of bringing out acres of food we couldn't possibly eat, despite the fact that she knew full well we'd been out for dinner - bless her. After a while spending time chatting and drinking with the family, we eventually retired to bed, with that wonderful feeling of "nice tiredness" you get after a really good day out.

Comment 1
Now that sounds like one of those wonderful, healthy days away from the city! Good exercise, fresh air, good food and convivial conversation! Splendid!

Posted by Nigel at 2006/07/31 07:21:10.
Comment 2
Ha! Yes the beetle picture is marvellous!! (Oh and the rest are too, it's just after all the solemn majesty of a mother-earth waterfall it's nice to have a contrast!! :)))

Posted by Nigel at 2006/07/31 07:38:28.
Comment 3
I totally envy you for having being in such a wonderful place! Never went to Nagano myself, always ventured more down "south" (read west) in Japan... Pictures a re great too, waterfalls make me remind of Iceland !!

Posted by Lox at 2006/07/31 07:58:32.
Comment 4
As a matter of fact I now wish that the beetle (gokkiburi) squashed you in a typical Kafkian way! :)

Posted by Lox at 2006/07/31 10:51:30.
Comment 5
Technically it is a kabuto mushi, not a gokkiburi, at the risk of sounding pedantic...

Posted by John at 2006/07/31 11:51:11.
Comment 6
I see... it is a beetle after all! :) Newver knew it was called kabuto mushi, all quadrupeds insects are "gokkiburi" to me until their real name is unveiled! :)

Posted by Lox at 2006/07/31 24:52:16.
Comment 7
All we need now is the "Doctor Who" theme tune and all would be complete! :)

Posted by Nigel at 2006/07/31 14:19:52.
Comment 8
Lox, at the risk of correcting you again - neither stag beetles nor cock roaches are quadrupeds - they've both got six legs.

Posted by John at 2006/07/31 14:47:53.