Missa Johnouchi
Posted on 2006/07/01 08:28:09 (July 2006).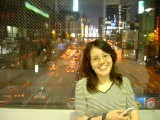 [Friday 30th June]
Quite at random I'd received a couple of tickets for a Missa Johnouchi concert from a colleague. To be honest I'd never really heard of her, although Chie had, but despite that we thought we'd give it a go - if nothing else it would be a bit different. So we both left work on time and headed over to the Meridien Hotel on Odaiba.

It wasn't exactly my usual cup of tea, but she was certainly very good. A lot of the songs were reminiscent of film sound tracks, and I thought I vaguely recognised a couple of them at least.

Anyway, it was a bit different, and it was nice to visit Odaiba again - we took the automatic (i.e. no driver) monorail thing that goes over the Rainbow Bridge to get there. Once again I was reminded how close Tokyo is to the sea - it is so easy to forget.

We met Chie's friend in Shimbashi on the way back, and had a late dinner there. Chie seemed to have developed a bit of a stomach ache during the evening, so after eating we got a taxi back to the flat, and the three of us sat round in our pyjamas, drinking beer, eating various types of seaweed, and watching late night telly.

A funny sort of an evening, but nice nonetheless.



Comment 1
Oh Wow! Those photos (especially the one in the blog entry) are excellent. Great background and Chie is lit well. Hard to achieve!

Now, I have to mention (as I'm practising being "racy"" here!) Missa Johnouchi sounds a bit like a bit like a transvestite John who enjoys S&M..! Hope I'm misinterpreting!! :)))))))))

Posted by Nigel at 2006/07/02 10:17:36.
Post a comment