Izakaya
Posted on 2006/06/28 13:20:03 (June 2006).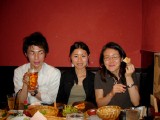 [Tuesday 27th June]
Aiko-san, a friend of Chie's, was in the neighbourhood, so in the evening we went for a couple of drinks and a bite to eat with her and our friend Haruka-kun - who lives just over the road. We went to a izakaya near to where we live. Didn't stay out too late, but had a pleasant time nonetheless.



Comment 1
For some reason that middle photo (with the flash) reminded me of some 1970's rock album cover... Not sure why, but there you go!!

Posted by Nigel at 2006/06/28 14:37:41.
Comment 2
It's either the red wall, or Haruka-kun's (the bloke on the left's) strange facial expression.

Posted by John at 2006/06/28 14:39:44.
Comment 3
Probably! And also the composition - I can see some type-face in the red area... :))

Posted by Nigel at 2006/06/28 20:47:13.