Yokohama
Posted on 2006/06/23 12:42:02 (June 2006).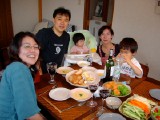 [Sunday 18th June]
Went over to Yokohama to meet my friend from work's family, and also do a bit of sightseeing. My friend's family were all lovely, and we had a nice lunch there, followed by a an exclusive live piano session. He is a downright excellent Jazz pianist, and it always makes me think what a waste it is that he has to resort to the tedium of software engineering to make ends meet (although in fairness, he's also a very gifted software engineer).

As for the sightseeing, well, it was a bit of a grey and drizzly sort of day, and so I probably didn't really see it at its best. It seemed, well.... pleasant, but pretty much just more of the same really. Perhaps this is because I look at it from an outsider's perspective - the subtle differences that distinguish Tokyo and Yokohama are largely lost on me. So the best I can muster is to conclude that Yokohama is not quite as crap as Tokyo.

Around 5 or 6 we left Yokohama, and on the way back mine and Chie's mood began to sink at the prospect of another working week looming ahead of us. So to cheer ourselves up we went over to Ikebukuro on the way back, and had dinner at Rohlan. The food was just tear jerkingly excellent. Honestly, without wanting to overdo it I think this could actually be the best restaurant in the world as far as I'm concerned.



Comment 1
Oh for a bottle of "Pocari Sweat" !!! You can't beat it!! :)))

Well I always knew eyes came in pairs... So is that the Yokohama Eye then? Or the original we went and copied, maybe?

Posted by Nigel at 2006/06/23 07:22:54.
Comment 2
Yes, something about the word sweat in the name of a drink really doesn't do it for me!

Another dubious one is Calpis - pronounced 'cow piss'. Hmmm...

Posted by John at 2006/06/23 08:46:22.
Comment 3
Her we are on the Serengetti Plain... There are Antelope, Zebra and Pocari by the score...

Posted by Nigel at 2006/06/23 09:05:29.
Comment 4
...and somebody is bottling their perspiration to sell as a sports drink in Japan.

Posted by John at 2006/06/23 14:43:01.
Comment 5
Does the word 'sweat' have a meaning in Japanese, phonetically speaking ?

Posted by Sheri at 2006/06/23 18:05:38.
Comment 6
Not so far as I know - my understanding is that they really actually wanted to use the English word "sweat". It is a sort of sports drink supposedly, so I guess they idea is "when you're sweating, drink this!".

Posted by John at 2006/06/24 01:04:35.