My Name in Ketchup
Posted on 2006/06/07 16:04:00 (June 2006).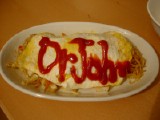 [Tuesday 6th June]
Another entirely crappy day at work. Feeling I really needed to get away, I actually went back to the apartment for a while at lunchtime. I confused my colleagues by continuing to send emails from there, and I even made a phone call to a colleague in the US. It occurred to me how refreshing it might be if I were able to officially work from home once in a while. Refreshing, but probably not massively productive. Having said that, the office is hardly the ideal work environment either at the moment...

Anyhwo, when the day was finally over I returned home feeling rather downtrodden and sorry for myself. Even though Chie got back later than I did, she very kindly offered to cook dinner, perhaps as it was evident I wasn't really in the mood for it. She made yaki soba (Kev: noodles again!), served with an omelette on top. The crowning glory was that she wrote my name - a big "Dr John" - in ketchup on the top. It was so wonderfully sweet, and cheered me up no end, bless her.



Comment 1
She's got a good calligraphy with Ketchup!! Come on Johnny boy, I am sure that things will improve soon. Maybe it's just a crappy patch, maybe it's the slow realization that life in Japan is not good for you... Heads up, and keep working on the lowering chair trick!

Posted by Lox at 2006/06/07 16:13:52.
Post a comment