Old Friends
Posted on 2006/05/24 24:50:50 (May 2006).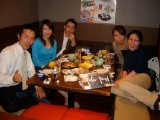 [Tuesday 23rd May]
Tonight was a real festival of old friends!

This was particularly nice as I hadn't really planned anything for the evening - so after work I initially just headed home, thinking I might well end up staying there all evening.

Then I got a call from Lorenzo, and so I headed over to Shinjuku, full of beans at the prospect of seeing everybody's favourite Italian. We went to an Irish pub and had a couple of beers, and a mutual whinge about our respective jobs. As both of us had early starts the next morning, we didn't stay out particularly late - until around 10ish I think. Hopefully though we'll have another chance to meet again later in the week. It was so great that we did actually manage to meet up, given that I originally thought I'd be away on business this week. What a blessing it was that my trip was cancelled!

I thought I'd give Chie a call before heading home, and as she was in Shibuya I thought maybe we could go back to the flat together. So I got on a train over to Shibuya, and was able to catch the tail end of her night out as well - a kind of impromptu reunion party with a load of her old university friends (for the second evening in a row!). They're all really nice people, so it was great to have a chance to have a quick drink and a bit of a chinwag with them all.

So all in all a surprisingly nice evening!



Comment 1
Tomorrow (Thursday) we 'll certainly meet up again... A dinner somewhere some more drinks and yet more chats... Japan has got a whole new meaning since you are here, it makes the days go by even faster (though I'd like them to be slower because I like it here).... :)

Posted by Lox at 2006/05/24 15:22:03.